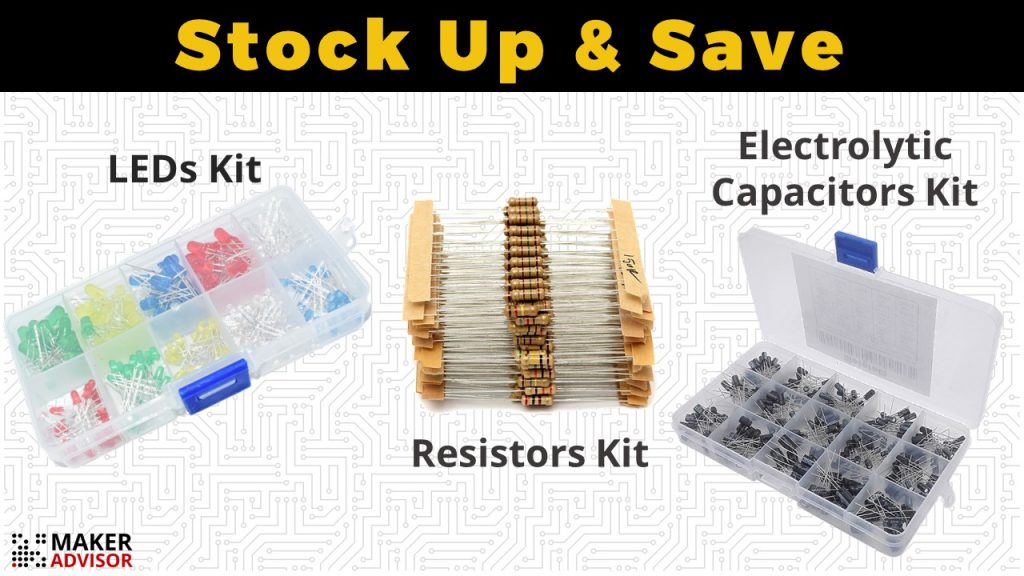 Hello everyone. Sometimes you are looking for the right component for a long time, just to find out you don't have that actual resistance value, LED color, or capacitor. Don't let that happen again and stock up your electronics components with the kits we feature today.
The featured products are great deals, specially because of the amount of components they bring. For example, the Elegoo LED package from Amazon comes with 600 LEDs of 15 different types. Additionally, everything comes well package and organized in an organizer plastic box. The resistors package from Banggood comes with 1000 pieces! So, you'll never run out of resistors again.
Scroll down the page to check our recommended kits on Banggood, Amazon.com, and Amazon.co.uk.
Banggood – Save 10% with this exclusive coupon!
You can save an extra 10% in any DIY kits and electronics components at Banggood by entering this exclusive coupon at checkout: 987300 – Hurry up, because this coupon is limited and will expire soon!
Save 10% with coupon code 987300
---
Find Resistors, LEDs, and Capacitors Kits on Amazon.com
---
Find Resistors, LEDs, and Capacitors Kits on Amazon.co.uk
---
Recommended reading: Electronics For Beginners eBook.
Stay Tuned
Looking for more great deals on electronics and tools? Make sure you subscribe here to catch upcoming deals and score some extra savings on your favorite gear!