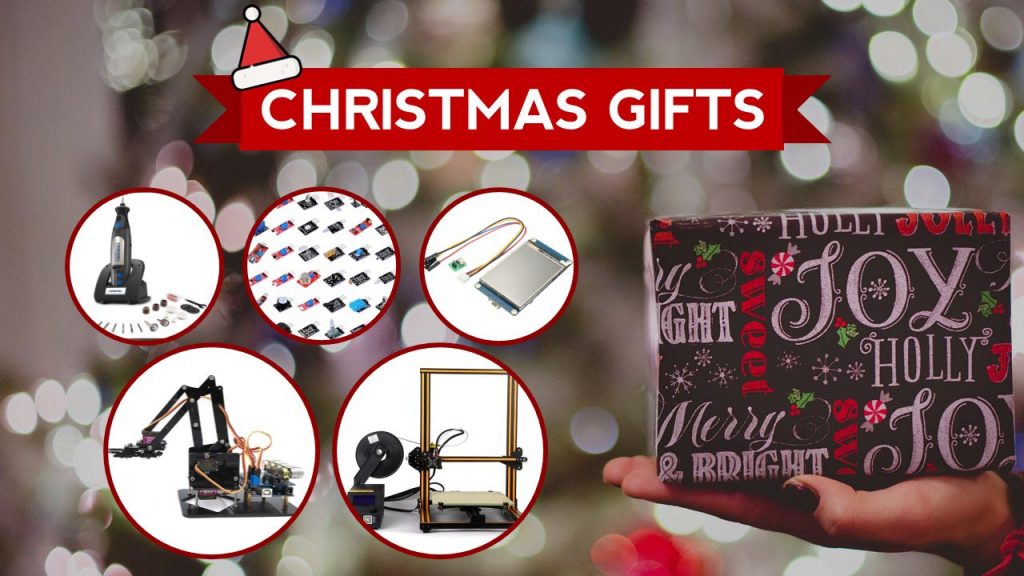 Christmas is coming! Have you bought your Christmas presents for everyone? Are you postponing that because you have no ideas of what to give to your friends?
Well, if your friends or relatives are makers, you are in the right place. We're going to show you 10 gift ideas for makers and electronics enthusiasts. We hope you'll like it.
P.S: You can also use these ideas and buy a gift for yourself .
1. Component Tester DIY Kit
If you're looking for a gift for an electronics enthusiast, then this component tester kit is a great choice. This is a DIY kit that needs soldering assembling, so it is perfect for someone who loves all DIY stuff.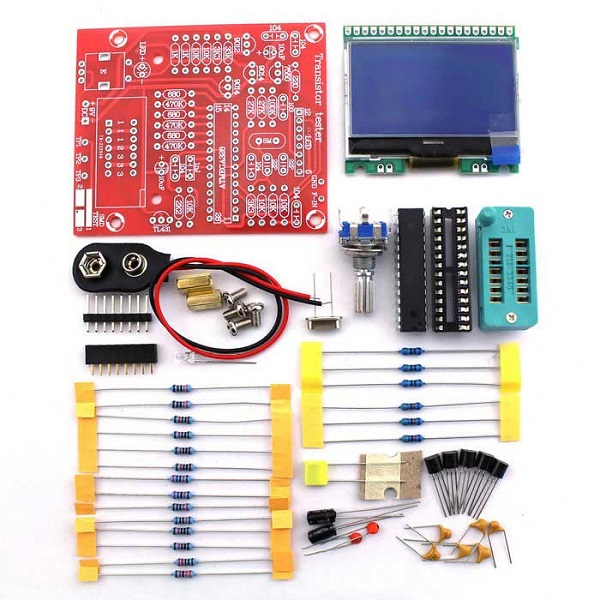 Original Hiland DIY M12864 Graphics Version LCR ESR PWM Transistor Tester Kit
Buy Now

Goo.gl
as of October 18, 2018 5:38 pm
This component tester identifies almost instantly any electronic component and its features like resistors, transistors, mosfets, and capacitors. It also measures frequency, is able to output PWM signals and generate square-waves. Do you want to see how it works? Read our full review here: DIY Transistor Tester Kit Review.
---
2. Kit with 27 Arduino Sensors and Modules
For someone who likes Arduino, this kit with 37 sensors and modules will be a great gift.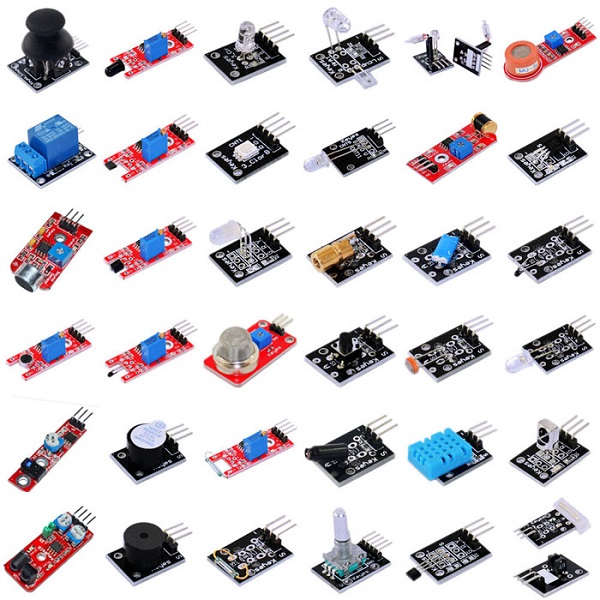 Geekcreit® 37 In 1 Sensor Module Board Set Kit For Arduino
Buy Now

Shareasale.com
as of October 16, 2018 1:33 am
The kit comes with an interesting collection of modules like DS18B20 temperature sensor module, finger-pulse sensor module, relay module, tracking sensor module and much more.
---
3. Raspberry Pi Kit
CanaKit Raspberry Pi 3 B+ (B Plus) Starter Kit - 32 GB Edition
2 new from $79.99
1 used from $ 73.99
Free shipping
as of October 20, 2018 11:35 pm
A Raspberry Pi kit is a great gift. A Raspberry Pi is a great tool to learn about how computers really work, programming, and electronics. There are endless things you can do with a Raspberry Pi: create your own programs, create your own electronics projects, build a retro gaming console, a media center, a home automation system, and much more.
Recommended reading: Best Raspberry Pi 3 Starter Kits
---
4. 3D Printer – Creality CR-10
If you're thinking about getting one of this, we recommend reading our review: Creality 3D CR – 10 3D Printer Review – Best 3D Printer under $400.
In our opinion, the Creality CR-10 is one of the best 3D printers you can get for less than $400. It is very easy to assemble, and you can get good results since the first print, even if you are a beginner in this subject.
---
5. Xiaomi Wiha 24 in 1 Precision Screwdriver Kit
This screwdriver kit comes with 24 high precision bits, useful for everyday needs.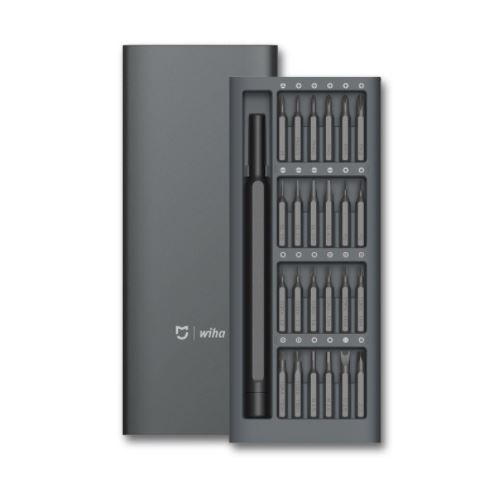 Xiaomi Wiha 24 in 1 Precision Screwdriver Kit
Buy Now

Gearbest.com
as of October 16, 2018 1:33 am
A precision screwdriver set is a must in any workbench. It is often used to repair your own stuff, disassemble electronics appliances, or just to tinkering around. This Xiaomi screwdriver kit comes within an aluminium alloy storage box with a nice design.
---
6. Arduino Starter Kit
Arduino Starter Kit - English Official Kit With 170 Page Book - K000007
15 new from $76.20
4 used from $ 61.49
Free shipping
as of October 20, 2018 10:37 pm
An Arduino starter kit is a great gift for those who want to start building their own electronics gadgets and build their electronics projects. Getting started with Arduino is easy and anyone can learn how to make stuff with it. It is suitable both for children and adults.
You may also like: Arduino Step-by-step projects – build 25 projects
---
7. Raspberry Pi Retro Gaming Kit
For those who love old arcade games, a Raspberry Pi retro gaming kit is just perfect.
Vilros Raspberry Pi 3 Retro Arcade Gaming Kit with 2 Classic USB Gamepads
2 new from $83.99
Free shipping
as of October 20, 2018 8:47 am
Turn the Raspberry Pi into a retro gaming console with this Raspberry Pi retro gaming kit (Raspberry Pi 3 included). The Raspberry Pi is able to emulate old consoles, so you can play games like Super Mario, Sonic, Space Invaders, and much more. This kit comes with classic USB gamepads and a retro gaming case to resemble old consoles. 
---
8. 3.2" Nextion Display
Nextion displays are analog touchscreens that make easier to build a Graphical User Interface (GUI). You build the interface for the display using the Nextion Editor program.
eBay - Nextion 3.2" HMI LCD Touch Display
VIEW THIS ITEM

Item condition: New
Ended: Dec 11, 00:57 PST
These displays are compatible with Arduino, ESP8266, ESP32, Raspberry Pi and other microcontrollers. These are just great for IoT applications.
You can also find the Nextion display on the following stores:
Last Amazon price update was: October 20, 2018 1:05 pm
---
9. Dremel Micro Rotary Tool
This dremel micro rotary tool is at great discount at amazon.
Dremel 8050-N/18 Micro Rotary Tool Kit with 18 Accessories
8 new from $78.00
Free shipping
as of October 20, 2018 8:47 am
This micro rotary tool from Dremel is perfect for carving, engraving, cutting, polishing, sharpening, sanding, and much more. It comes with several accessories to suit all your needs. This tool is cordless and includes a docking station to hold the tool when you're not using it. This is for sure a great gift for any maker.
---
10. Arduino Arm Robot Kit
This kit comes with everything you need to build a robot arm controlled with the Arduino, including the Arduino Uno board (clone) itself.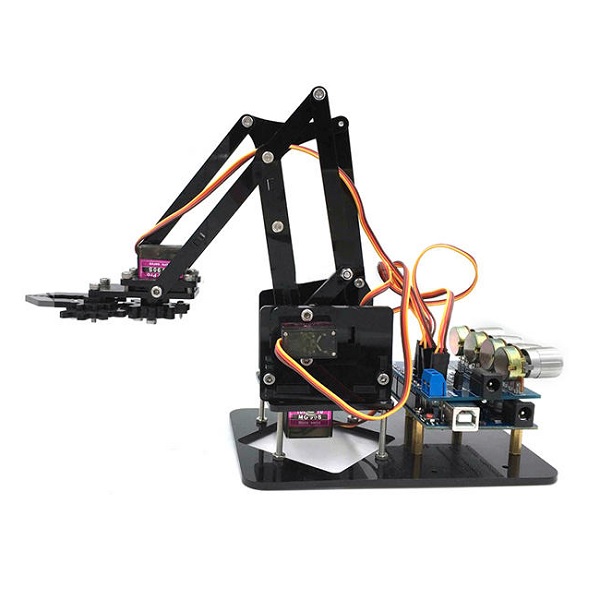 Robot Arm 4 Axis Acrylic Rotating Mechanical Robot Arm With Arduino
Buy Now

Shrsl.com
as of October 16, 2018 1:33 am
This is a great kit for those who like DIY and electronics. You can easily hack this robot arm and control it the way you want. For example, you can add other electronics components to control the robot arm via bluetooth using your smartphone, or via IR using a remote control.
---
Stay Tuned
We hope you've enjoyed and found this list of 10 Christmas gifts for maker useful. Looking for more great deals on electronics and tools? Make sure you subscribe here to catch upcoming deals and score some extra savings on your favorite gear!
---
[Recommended Course] Learn ESP32 with Arduino IDE
Register in our brand new ESP32 course with Arduino IDE. This our complete guide to program the ESP32 with Arduino IDE, including projects, tips, and tricks! The registrations are open, so sign up now.