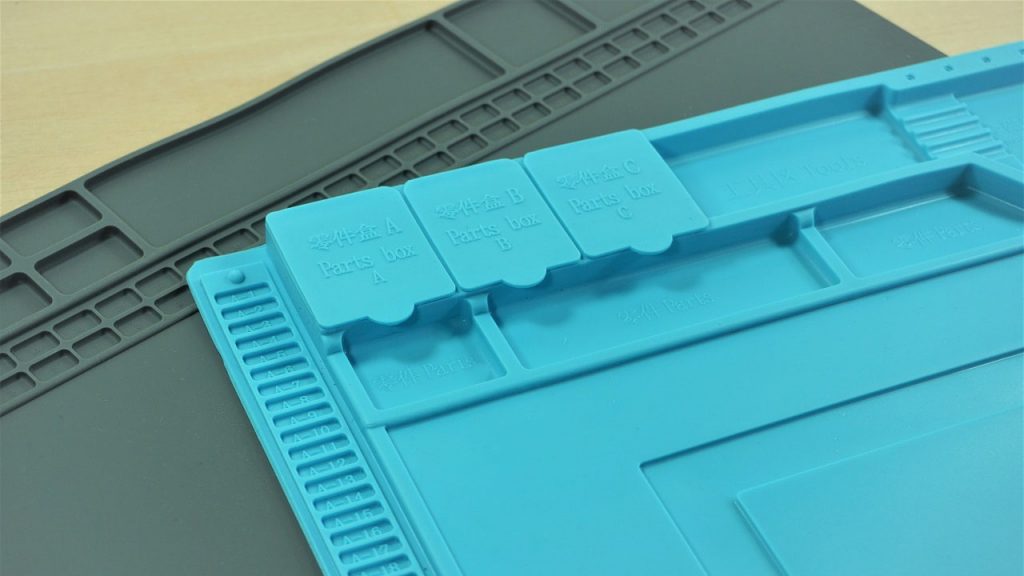 What do you use to protect your workbench while soldering or while disassembling electronics? A silicon pad, or also called a soldering mat is a great solution. In this article, we're going to review two different soldering mats that you might want to use on your desk.
Soldering Mats Review
The mats we'll review here were kindly sent to review from Banggood. Here are the mats: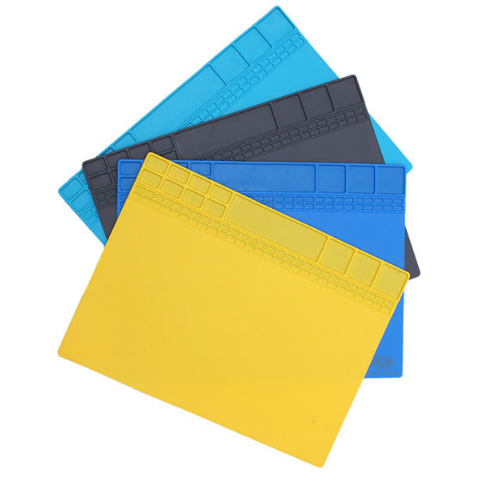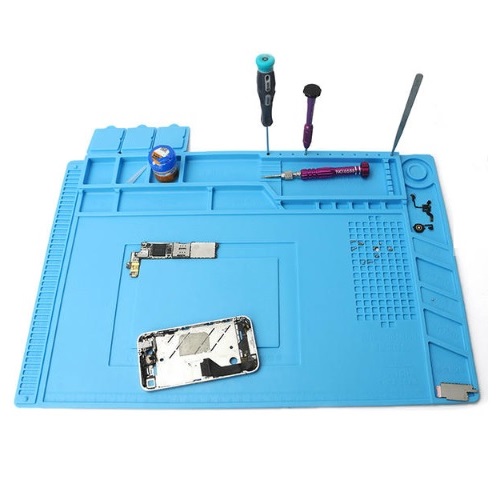 Magnetic Heat Resistant Soldering Mat
The first soldering mat, we'll review is the magnetic heat resistant soldering mat (see figure below).
$19.99
in stock
2 new from $17.99
Last updated on June 25, 2022 8:51 am
It is available in several colors: grey, blue, dark blue, and yellow and it is made out of silicone. We've got our in grey.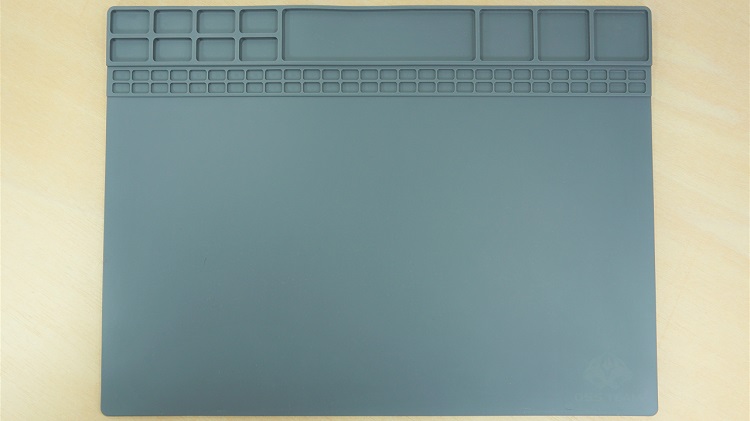 The mat dimensions are 40 cm x 30 cm (15.7 inch x 11.8 inch) with 3 mm (0.1 inch) thickness. This makes it perfect to fit in any workbench but with a considerable working area.
It comes with several divisions with different sizes to separate components, organize bolts and screws, and other parts and tools. It comes with 1 big division, 3 medium-size divisions, 8 small-size divisions and 56 tinny divisions. There are numbers on the tiny divisions, which is useful to track of all your components.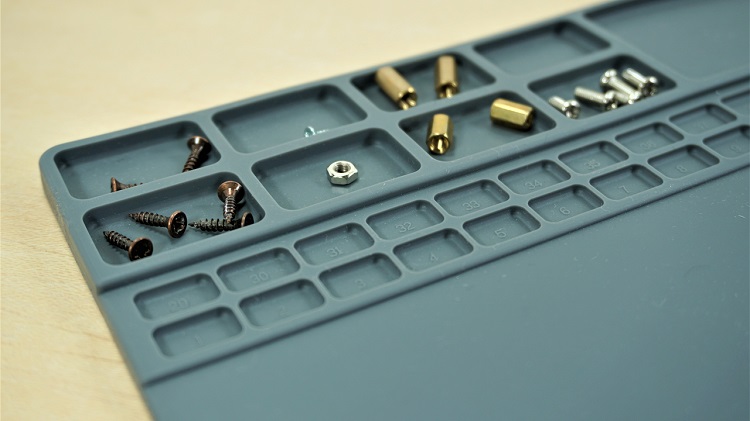 The divisions have a thin magnetic layer at the back to attract the magnetic components to the mat, so even if you move the mat, the components stay in place.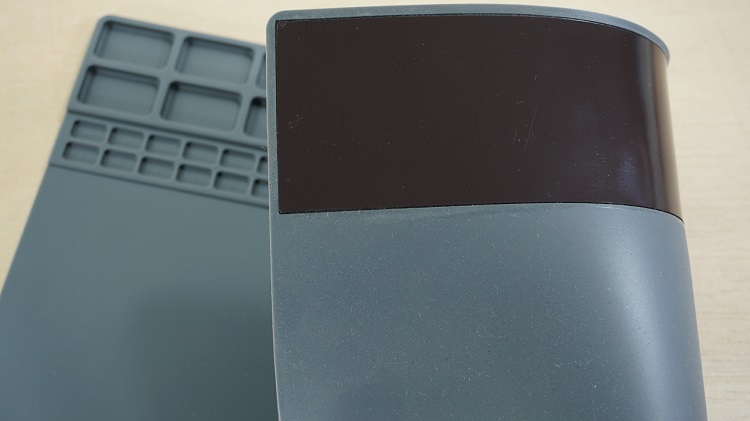 The magnet is not very strong, but it does the job: it holds small screws in place when bending and moving the mat.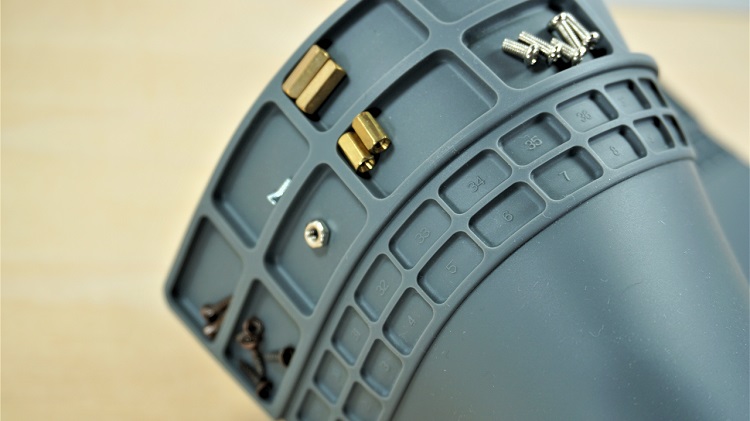 This mat is perfect for soldering: it protects your table's surface, doesn't let your components slide over your workbench, and is heat resistant. We've also touched the mat with a heated soldering iron, and nothing happened.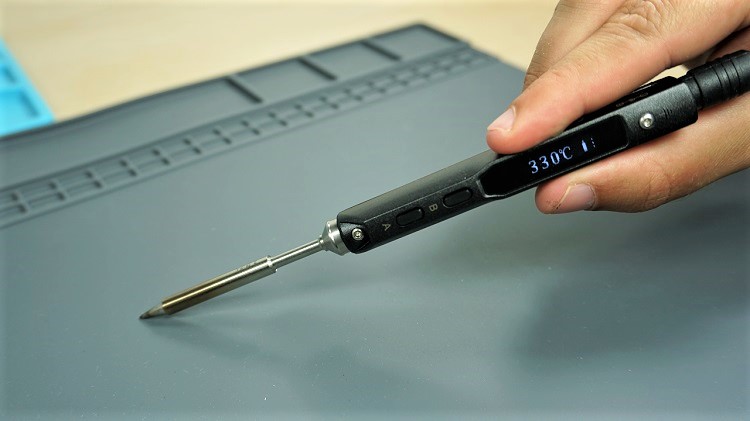 We've split some molten solder over the mat, and we were able to easily remove it without damaging the mat. If the mat gets dirty, you just need to rub it with a bit of alcohol and it looks new again.
What we didn't like about this soldering mat?
This mat shipped folded, so it came with a wrinkle right in the middle. You can put something heavy on top to recover its original form (which worked for us).
DANIU Silicon Pad Desk Mat
The other soldering mat we've received was the Silicon Pad Desk Mat from DANIU.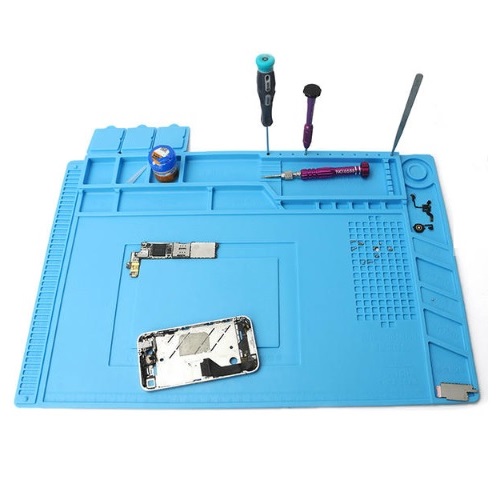 DANIU Magnetic Heat Insulation Silicone Pad Desk Mat
as of June 21, 2022 3:35 pm
Last updated on June 25, 2022 8:51 am
This mat is also perfect for soldering or as a repair station, and it has lots of compartments for organization. If you have lots of parts, tools, small screws, and you need to have everything organized this mat is perfect.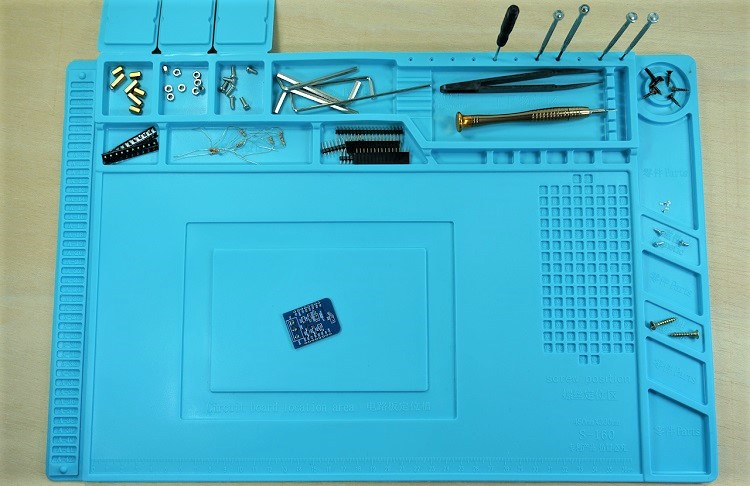 This mat has a reasonable working area of approximately 45 cm by 30 cm (18-inch x 12-inch) and it is very thick: 6 mm (0.2 inches). It really sticks to the table and it doesn't slide. The surface is smooth but with high friction at the same time, so you're less likely to lose any small pieces when taking apart electronics or fix them on the mat.
There are also many compartments to keep your tools organized, including small holes to put your screwdrivers, tweezers, and much more.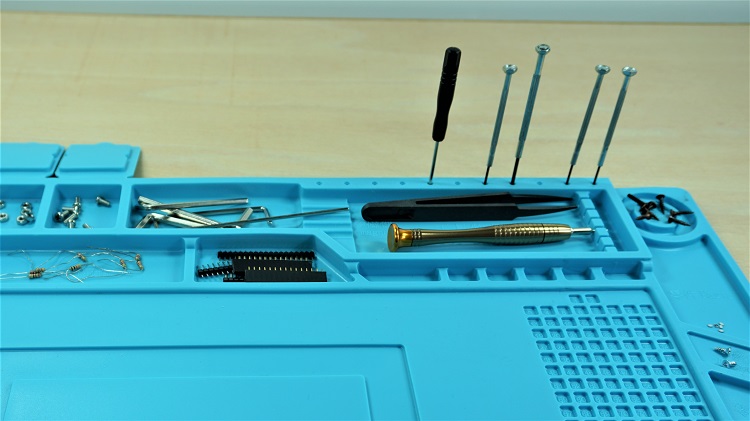 It has small compartments with lids. The lids are a bit tricky to close, but they do the job.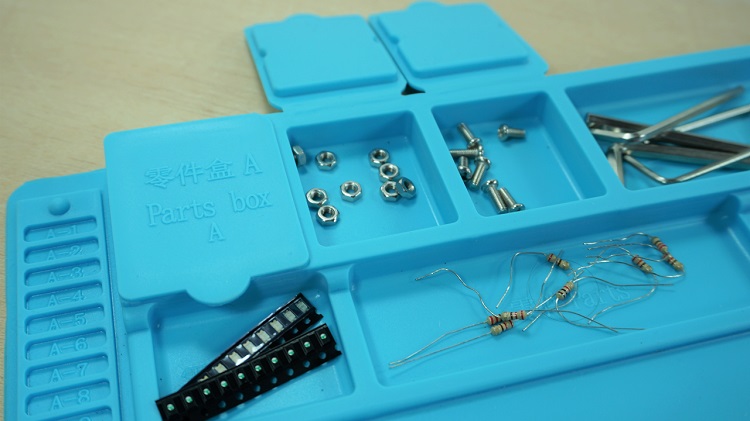 There are very small compartments for small screws or small SMD components that are labeled so that you always know where the pieces go as you assemble or disassemble electronics. You can also find some magnetic sections that can be useful to place some screws or to magnetize your screwdrivers.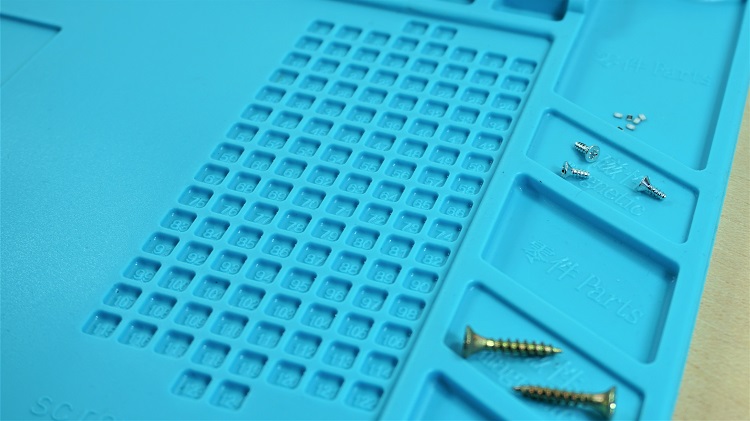 There is also a small ruler at the bottom with 36 cm (14 inches) which can be very handy. However, it can be a bit difficult to read the numbers as they are in the same blue color as the mat.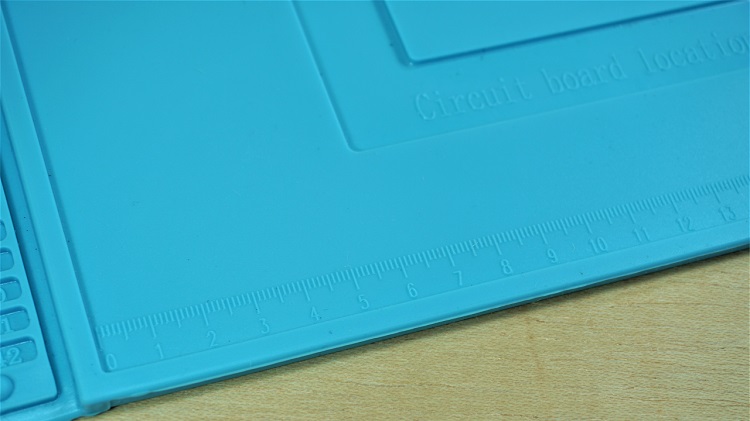 The mat is heat resistant. Even if you drip some molten solder, it won't get damage. Hot glue won't stick to it either.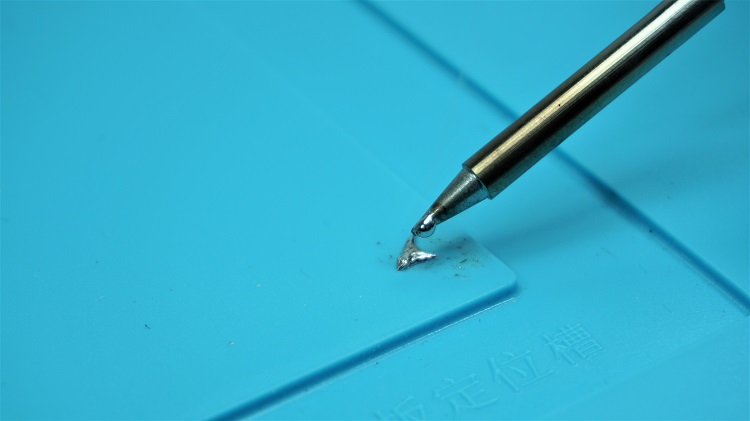 To clean the mat, rub a little bit of alcohol on the surface.
What we didn't like about this soldering mat?
Something important that we should mention: this mat smells really bad when unpacking for the first time. To get rid of the bad smell, we recommend putting the mat outdoors for 48 hours. After those 48 hours, the mat becomes practically odorless.
Wrapping Up
Both mats reviewed here are great to protect your workbench while soldering or assembling/disassembling electronics.
These mats are made of silicone and are heat resistant. They won't get damaged with a soldering iron, molten solder, or a hot glue gun. Additionally, they are easy to clean when they get dirty
They are flexible and have good adhesion to the workbench, and the smooth and high friction surface prevents small parts from sliding.
Both mats have a multitude of compartments and magnetic areas to separate screws, small parts, and tools. If you need some serious organization the DANIU soldering mat is better.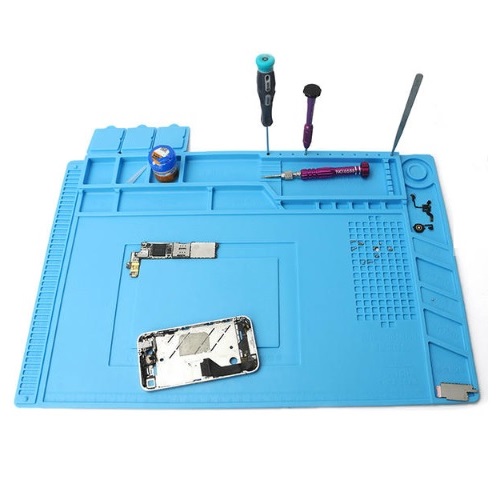 However, if you just need something to protect your workbench, the grey heat-resistant soldering mat may be a better option.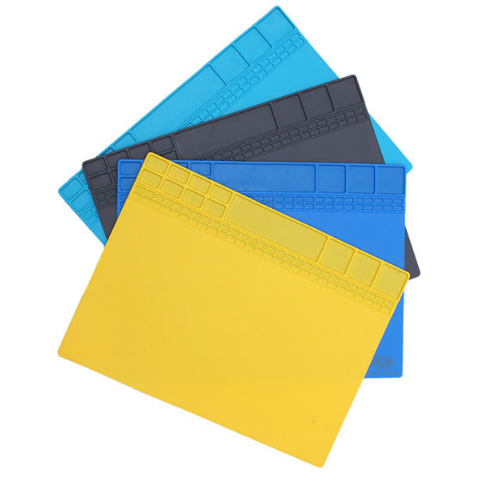 These soldering mats are a great soldering accessory, you can find deals on soldering accessories and tools here, or you can read our post about the top 10 soldering accessories and tools. We have other articles about soldering that you may like:
We hope you've found this soldering mats review useful. Thanks for reading.
---
[Recommended Course] Learn ESP32 with Arduino IDE
Register in our brand new ESP32 course with Arduino IDE. This is our complete guide to program the ESP32 with Arduino IDE, including projects, tips, and tricks! The registrations are open, so sign up now.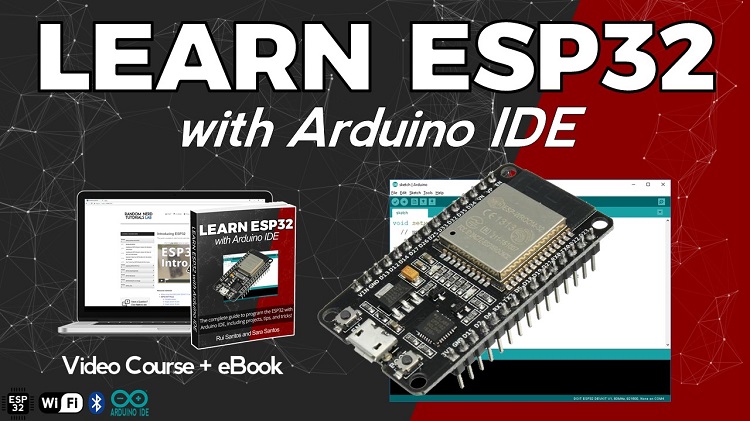 ---
Other RNT Courses
Build IoT projects and home automation gadgets with the ESP8266 Wi-Fi module.
Build a home automation system using open-source hardware and software.
Build 25 cool Arduino projects with our course even with no prior experience!