In this post we're going to show you the best soldering irons for beginners and hobbyists. The soldering irons we'll recommend are suitable for soldering electronics prototyping circuits or simple circuit boards joints.
Soldering is an essential skill in electronics: whether you want to repair some electronic appliances or to create and solder your own circuits. Soldering is not difficult and you can learn how to solder in less than an hour just reading our watching a few tutorials.
Best Soldering Irons for Beginners and Hobbyists
Taking into account the features you should look for in a soldering iron, we put a list of the best soldering irons for beginners and hobbyists. Check their different features below and continue reading this post for a detailed description of each tool.
---
Types of Soldering Irons
There are several types of soldering irons for electronics circuits.

Pencil Soldering Irons – these connect directly into a wall socket and they don't have adjustable temperature.
Adjustable Pencil Soldering Irons – these are similar to the pencil type but come with adjustable temperature.
Cordless irons – these are a good choice when you need the soldering iron to be portable. However, usually these aren't as goods as regular irons.
Soldering stations – these are constituted by two different parts: the base and the soldering iron itself; the base usually comes with a holder, a cleaning sponge and temperature dial.
Features You Should Look for in a Soldering Iron
What should you look for when buying a soldering iron?
Wattage: you should pick up a soldering iron with at least 30 watts of power. Soldering irons with low wattage take longer to heat up and have difficulty in holding the temperature.
Temperature Control: this is a good feature because different soldering jobs may required a different iron's temperature.
Tip compatibility: the iron's tips should be replaceable and the iron should be compatible with a wide variety of tips. There are different tips with different sizes for different types of jobs.
Holding stand: this is important so that you have something where to place the hot iron while you work.
You might also like: Best Multimeters Under $50
---
Best Soldering Irons for Beginners and Hobbyists Comparison
Here's a detailed description of each of the soldering irons. There are several soldering irons within different price ranges with their own features.
This Hakko soldering station is one of the best within this price range – it is rated 5 stars on amazon. It has everything you look for in a soldering station. The soldering iron heats up incredibly fast (about 10 seconds) and preserves the temperature while working. It offers temperature adjustment and a digital display, and comes with a cleaning sponge and a sturdy stand that doesn't move around while working. You can also find this soldering station with 7 extra tips.
---
This is a soldering kit that comes with lots of accessories besides the soldering iron. This is great for beginners that don't have any of the necessary soldering accessories and are on a low-budget. The kit comes with a 60W soldering iron with adjustable temperature, solder, stand, a cleaning sponge, five different tips, anti-static tweezers and a case to store and carry everything.
Some people complain that the cleaning sponge is not very good and the stand is not very sturdy. However, it is still a great kit for the price.
---
This soldering station comes with a 75W soldering iron with an ergonomic grip and a sturdy stand with place for several accessories like a solder roll holder, brass sponge tip cleaner and cleaning flux.
The station comes with a digital temperature display – it can display temperature in Celsius or Fahrenheit. This is a nice feature so that you know when the iron is hot enough to start soldering. Additionally, it also comes with a 10 minute sleep function. This means that if you set the iron into the holder after using it, it will go into sleep mode after 10 minutes.
---
This a number 1 Amazon best seller. It includes an on/off switch with power indicator light and a temperature-control knob that you can adjust from 1 to 5. The iron comes with a cushioned foam grip so that it feels comfortable in your hand while you work. It has a replaceable heating element, so that you can use this iron for a long time. The stand is simple and has a place to hold your iron, and space for the sponge.
The only cons about this station is that the iron takes a little to heat up and comes with a chisel-shaped tip that is a little thick for small electronics components. So, it is advisable to replace the tip with a thinner conical tip.
---
This soldering station comes with a 60W iron with removable tip design. This iron is compatible with many different tips, which is convenient for replacements or if you need a different kind of tip for a different job. The tip that comes with the iron is suitable for most of the soldering work you need in most electronics projects.
The pencil is very lightweight, which makes it easy to use. It has an on/off switch at the back of the station so that you don't have to plug and unplug the iron from the wall socket every time you want to solder. It has a little LED that shows when the station is on and blinks when it is heating up. Some people say this LED could be bigger to be more visible, so that you don't accidentally leave your iron on.
The iron temperature can be adjustable from 1 to 8 by rotating the a knob on the station. The stand comes with a cleaning sponge, a holder for the iron and also with a solder spool holder.
---
Recommended reading: Best Helping Hands for Soldering
Best Portable Soldering Iron
The TS100 soldering iron is probably the best portable soldering iron for its price at the moment! Better than many "regular" soldering irons within the same price range.
This is a temperature-controlled, cheap, lightweight, portable and high-quality soldering iron. It also has some awesome smart features like the sleep and stand-by modes. The iron heats up really fast (approximately 30 seconds with a 12V power supply), and works incredibly well. It is very small and doesn't occupy much space. So, if you have a small workbench or do you need to do soldering on the field, this soldering iron is the best choice. Depending on where you get the soldering iron, it will not come with power supply neither a stand. Nonetheless, we really recommend this soldering iron and you can read our review of the TS100 portable soldering iron here.
Soldering Accessories
If you're just starting into soldering, you may consider getting some accessories:
For more soldering accessories, take a look at the Top 10 Soldering Accessories and Tools.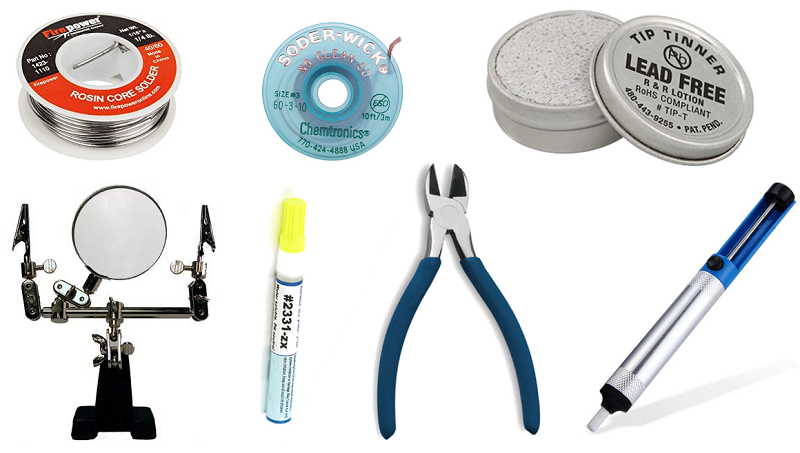 Wrapping Up
In this post we've shown you the best soldering irons for beginners and hobbyists. The irons we've shown you are all good choices depending on what you want to do and depending on your budget.
If you are on a lower budget and you are an absolute beginner, the Tabiger Soldering Iron Kit is a good choice as it comes with a lot of useful accessories.
We hope you've found this list useful. Do you already have a soldering iron or do you intend to buy one? Share your thoughts with us.
Thanks for reading and don't forget to subscribe our newsletter.
---
---
Other RNT Courses