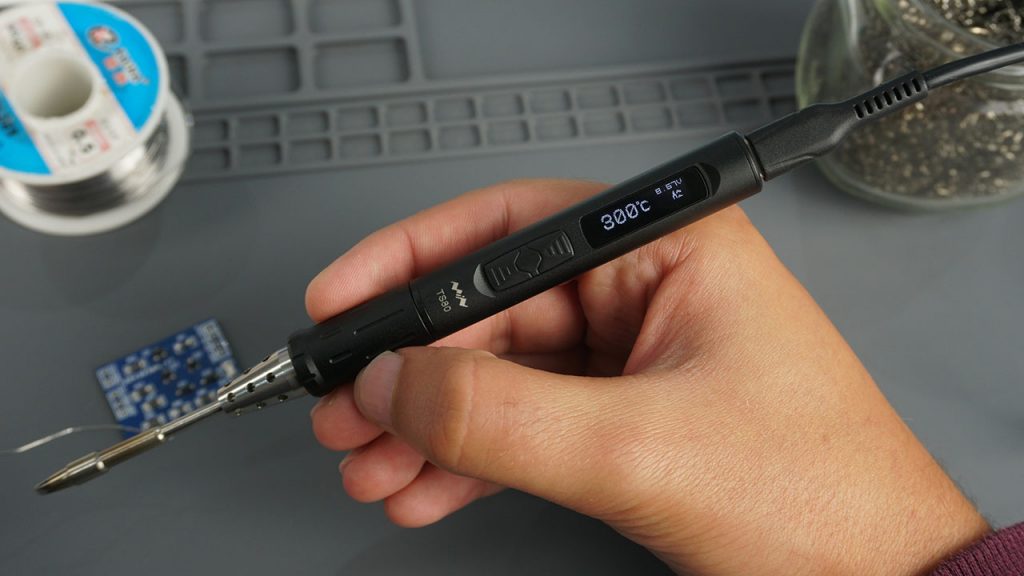 The TS80 is a great, small, lightweight and high-quality portable soldering iron. I've been using this soldering iron in my small electronics projects for a while and I absolutely love it! In this article I'll share my review about the TS80 soldering iron.
Note: the TS80 was replaced by the TS80P soldering iron (which is similar, but with improved features).
The TS80 Soldering Iron is the successor of the TS100. It is similar to the TS100 but with newer features, some improvements and also some minor "drawbacks". I have both soldering irons and I have to say that both are great pieces of equipment and are probably better than your regular soldering iron.
This is a temperature-controlled, lightweight, portable, fast heating and high-quality soldering iron and when compared with some soldering stations within the same price range, it can probably do a better job.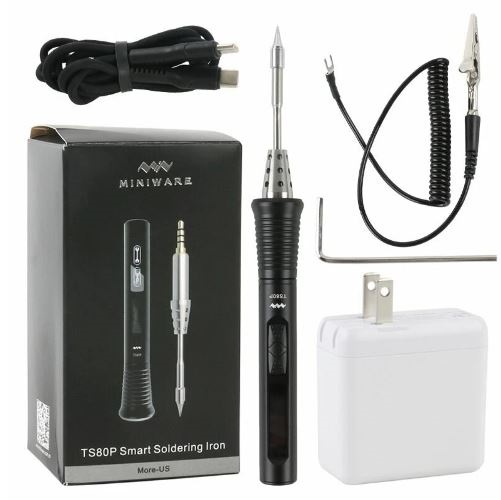 Banggood - TS80P Digital Soldering Iron OLED USB Type-C (complete kit)
as of April 10, 2021 6:35 am
If you love drones and RC toys, or you often need to repair electronics appliances and perform some work on the field, you'll find this soldering iron very practical. Also, if you don't have much space on your workbench, and you need to solder some PCBs, the TS80 will do a great job. Additionally, if you're a beginner, this is one of the easiest soldering irons to start with.
You can also read my review about the TS100 soldering iron: TS100 Soldering Iron Review
Where to Buy?
The TS80 soldering iron was kindly sent from Banggood to review and that's where you'll find one of the best prices. You can also get the TS80 soldering iron from other stores:
$94.99
in stock
as of April 13, 2021 9:39 am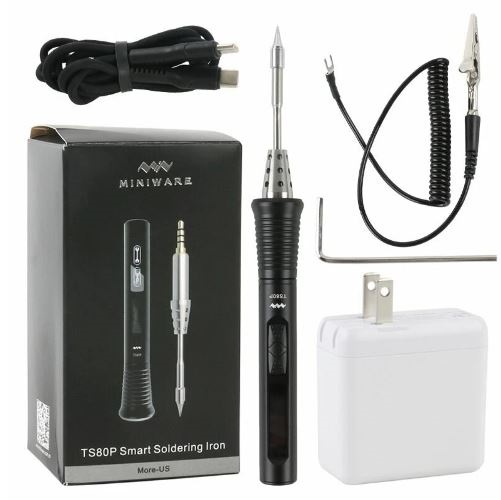 €114.99
in stock
as of April 13, 2021 9:39 am
€114.99
in stock
as of April 13, 2021 9:39 am
£109.99
in stock
as of April 13, 2021 9:39 am
Most stores offer the possibility to choose between a package with just the soldering iron, or the package with a power plug adapter. We recommend getting the package with the power plug adapter because it is very handy to be able to power your soldering iron from a wall socket.
If you already have a power plug adapter that supports QC 3.0, you don't need to get another one.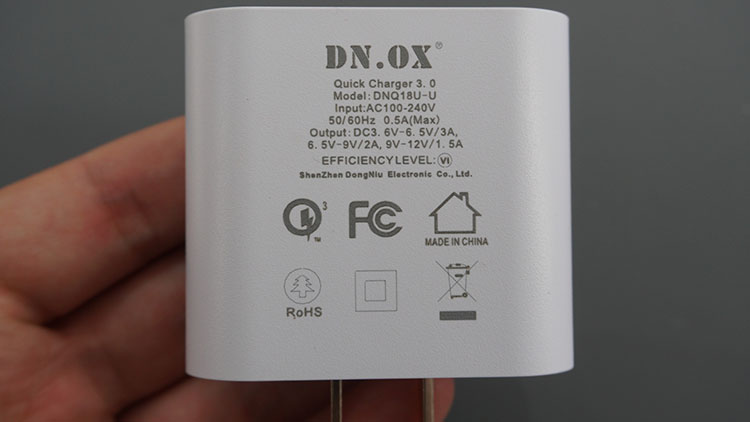 Besides the power adapter, it also comes with a good USB type-C cable, a safety ground wire and an Allen key. It is cheaper getting the package with more accessories than getting the accessories separately.
TS80 Accessories
There are other TS80 soldering accessories that you may consider getting when you buy it.
Stand
For example, the TS80 doesn't come with a stand, so it may be very practical getting one, so that you can safely put the iron down.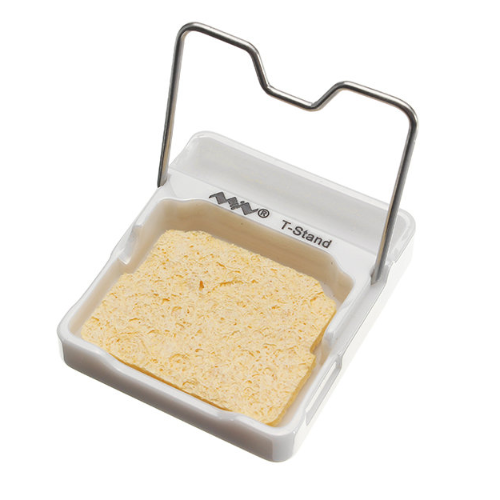 Tips
There are interchangeable tips for the TS80. You can get conical, chisel, or knife type tips.
Case
Finally, if you need to carry your iron with you very often, you may get a small case that will fit perfectly in your pocket.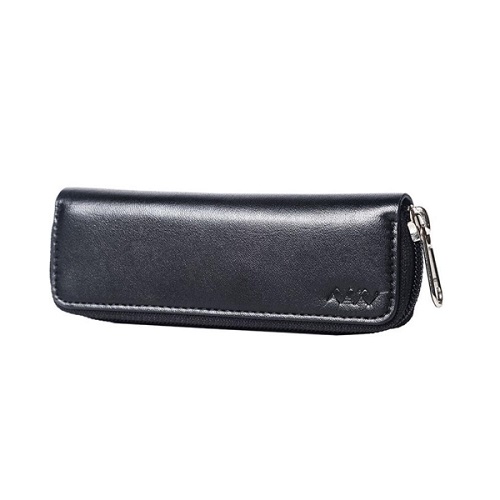 Powering the TS80 Soldering Iron
The TS80 soldering iron can be powered through a USB type-C cable that supports quick charge 3.0 (QC 3.0). If you get the TS80 with the accessories package, you don't need to get one as it is already included.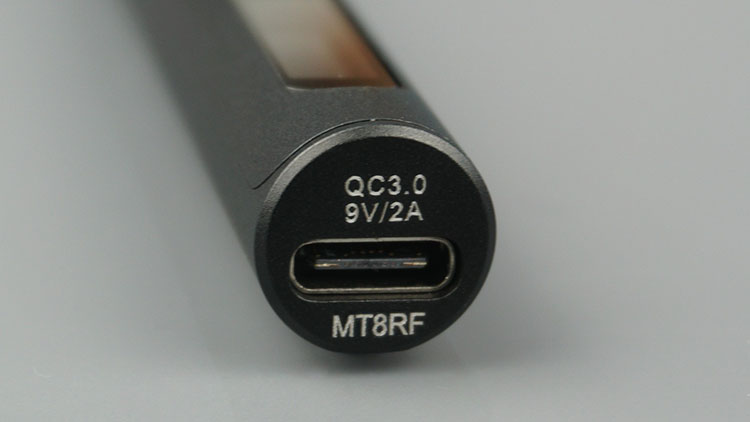 You can get a wall adapter that supports QC 3.0 if you want to power your soldering iron using a wall socket, or you can get a power bank that supports QC 3.0 to make your iron completely portable.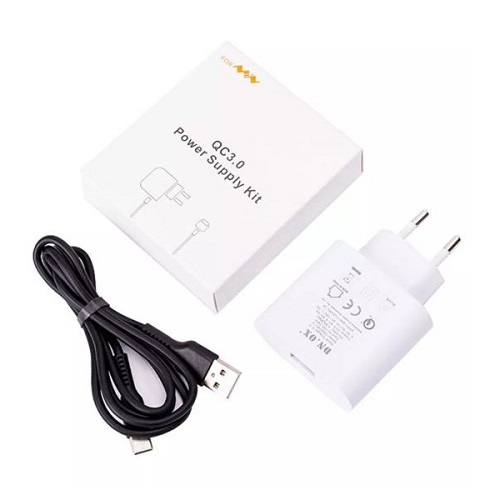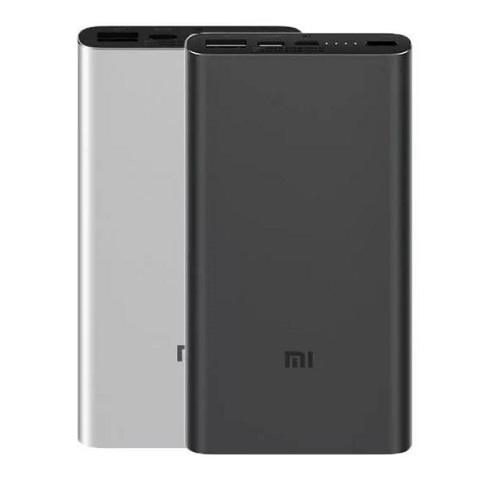 Recommended reading: Top 10 Soldering Accessories and Tools
TS80 Soldering Iron Features
The TS80 is a very small soldering iron, even smaller than the TS100. You can see the picture below for comparison purposes.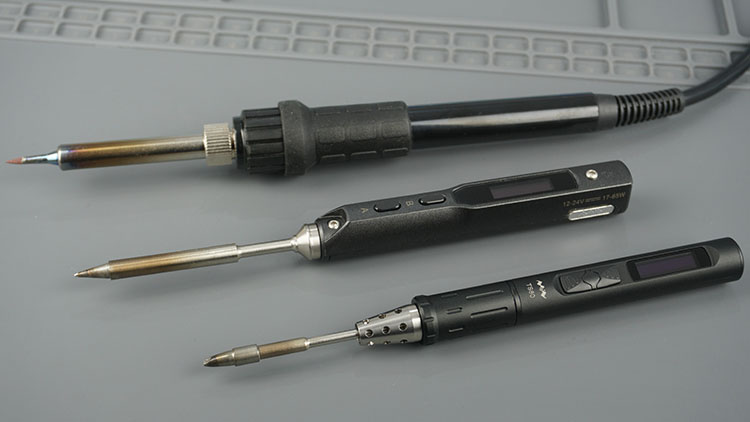 It is approximately 15.5 cm (with the tip) long and only weights 36.5g. The shell is made of aluminium, and that's why it is a little bit more heavier than the TS100 (that is made of plastic and weights approximately 30g but you won't be able to notice the difference).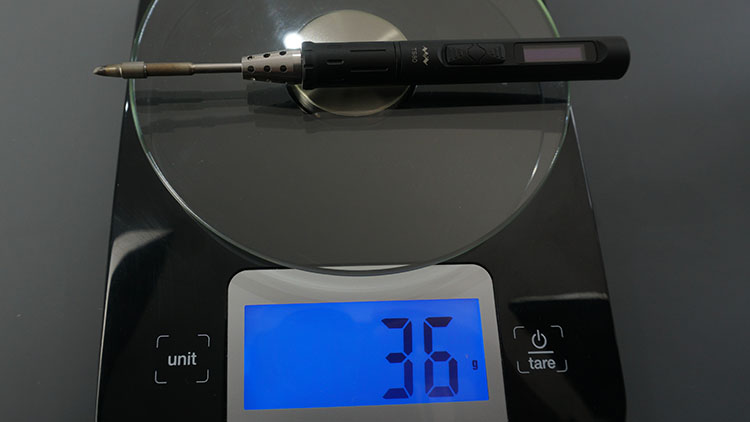 It comes with a small chisel type tip.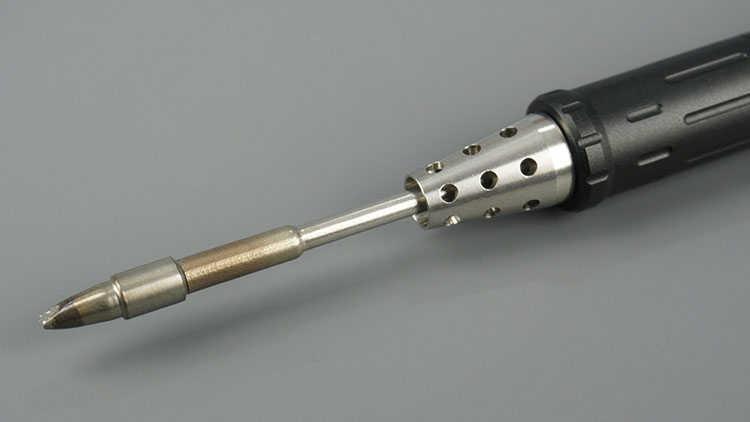 The tips are easily interchangeable via headphone jack. Although you are not always changing a tip, it's nice to know that you can do it in seconds. The types of tips available are chisel, knife and conical tips.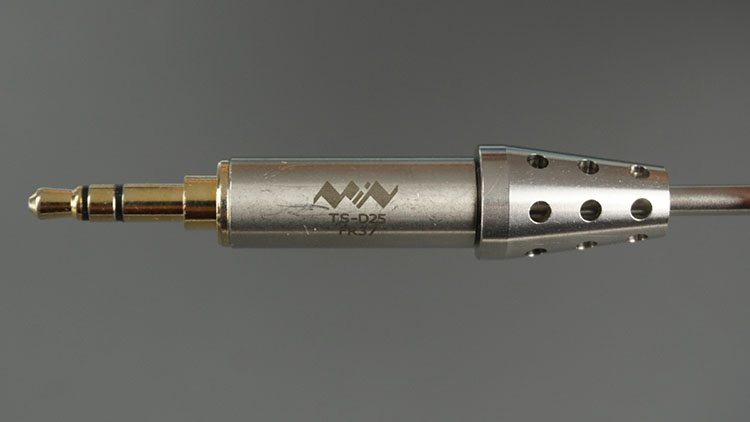 I have no complaints about the tip that comes with the soldering iron. I can easily solder small SMD components. Because these tips are so small, they are perfect for small precision work with small components and PCBs.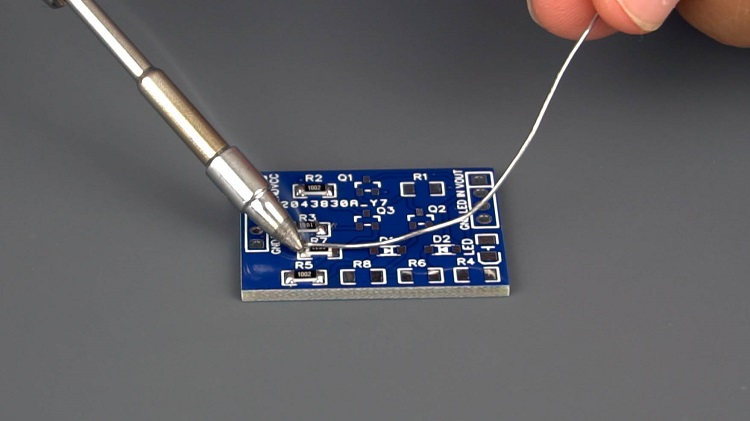 The TS80 has a good ergonomic grip (that is removable). The soldering iron feels good in your hand, but because the grip is much smaller when compared with regular soldering irons, it's easy to burn your fingers if you're not cautious.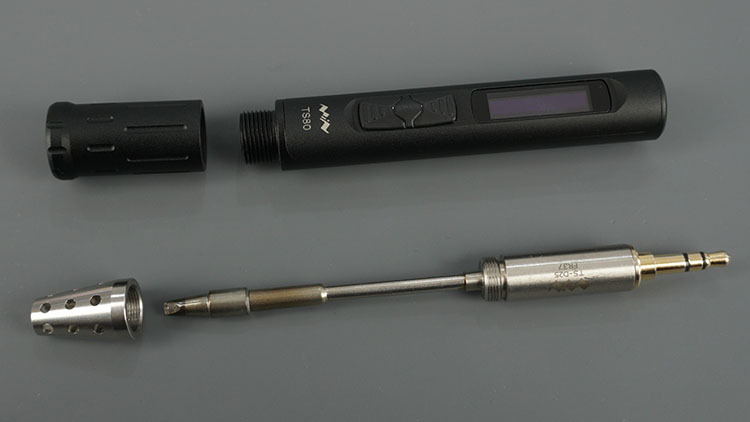 Temperature Control
This is a digital temperature-controlled soldering iron. You can adjust the working temperature by going to the temperature menu. The default working temperature is 300ºC and the standby temperature is 200ºC. You can configure all these settings.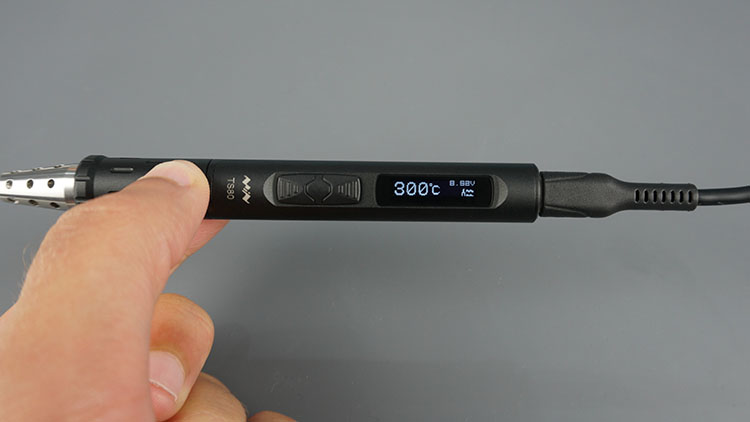 The soldering iron heats up incredibly fast. Starting at room temperature, it takes about 22 seconds to reach 300ºC and start soldering. If you prefer to see the temperature in Fahrenheit degrees, you can easily change that through the menus.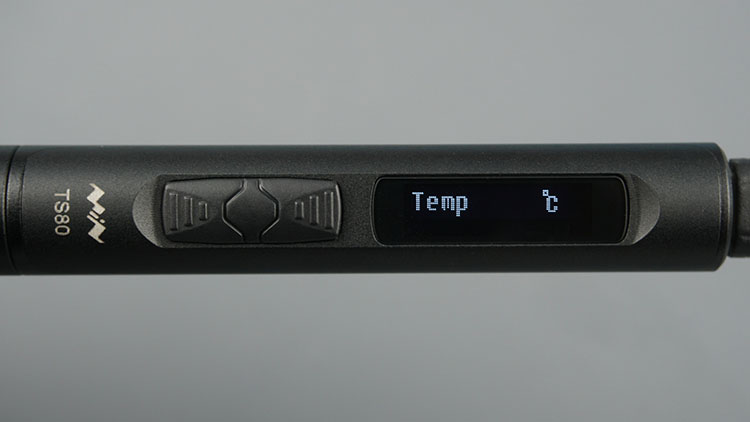 Sleep Mode
Like the TS100 soldering iron, the TS80 comes with nice features like sleep mode. When the iron is powered on, if you don't use it for more thant 180, it will adjust the temperature to the standby temperature (200ºC by default). All of this is configurable both the time to enter deep sleep and the standy temperature.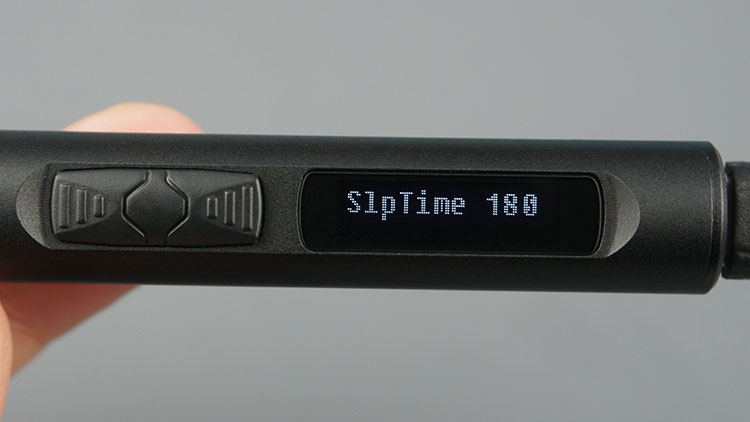 TS80 Specifications
Here's a summary of the TS80 soldering iron specs:
Temperature Range
100ºC to 400ºC(max.)
Power Input
3.6V – 6.5V (2A) or
6.5V – 9V (2A) or
9V – 12V (1.5A)
QC3.0 (Quick charge 3.0)
Data/power Interface
USB Type-C
Temperature Stability
+/- 3%
Display
OLED
Weight
36.5g (1.3oz)
Operating the TS80 Soldering Iron
The TS80 features an OLED display and two buttons to navigate through the menus and settings. Controlling the soldering iron through this menu can be a little bit tricky and frustrating at first, while you're not used to it (while the TS100 comes with a much more intuitive menu).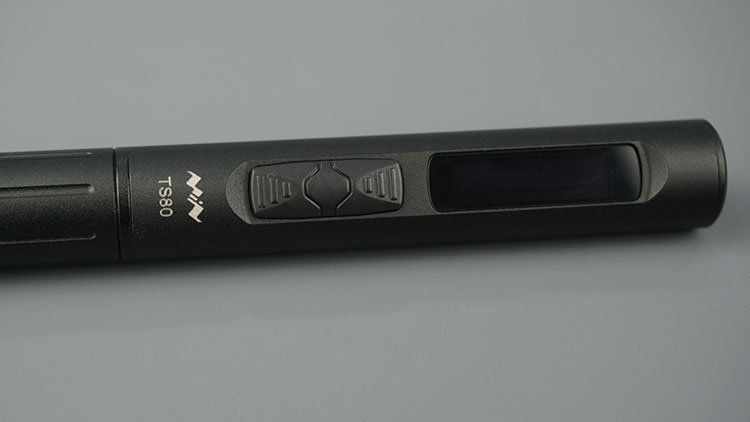 Before starting operating the soldering iron, I recommend searching for "TS80 manual" and read the operating instructions to get you more familiar with the menus and settings.
After having the desired configurations and settings, operating the soldering iron is very easy. Apply power and press the A button (leftmost button) so the soldering iron starts heating up.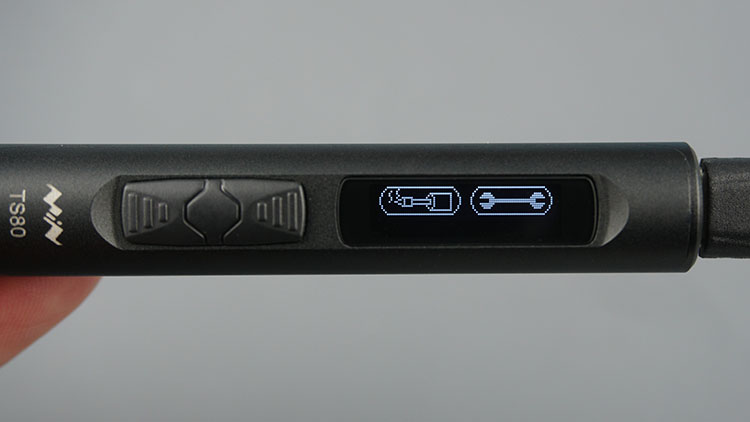 If you're left-handed, you can configure the soldering iron, so that you don't see the menus upside down.
Configuring the TS80 Settings
You can easily configure the TS80 soldering iron settings by connecting it to your computer through a USB Type-C cable. Open the config.txt file and change the parameters to meet your requirements.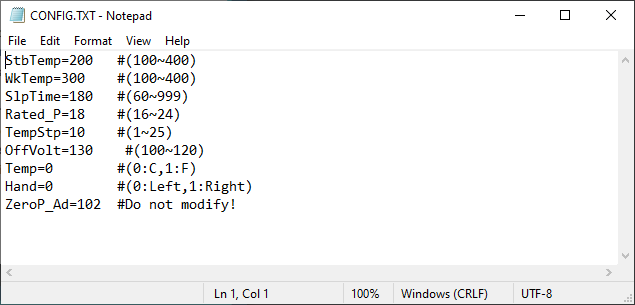 The TS80 software is open source, you can upload other firmware versions to your soldering iron. Also, if you search for "TS80 firmware update" you should be able to find the latest firmware version. Search for the TS80 soldering iron manual to see how to upload new firmware.
TS80 vs TS100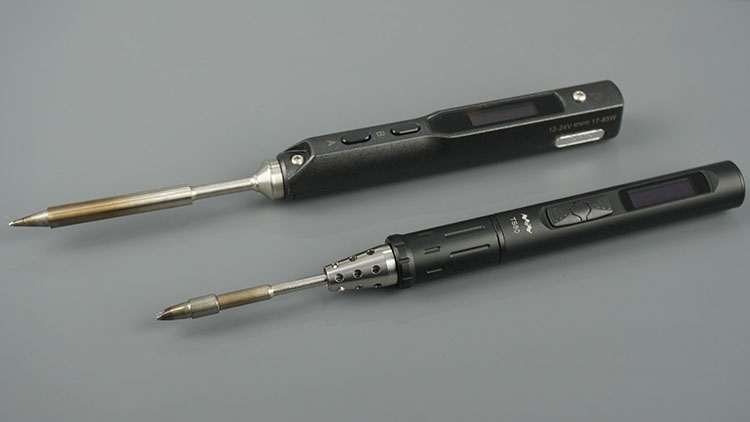 The TS80 is the TS100 successor. Not everyone is happy about some of the "improvements" on the TS80, but this will really depend on what you'll use your soldering iron for. The following table compares some of the features and specs of the TS80 and TS100 soldering irons.
TS80
TS100
Temperature Range
100ºC to 400ºC (max.)
100ºC to 400ºC (max.)
Input Power
3.6V – 6.5V (2A) or
6.5V – 9V (2A) or
9V – 12V (1.5A)
(quick charge 3.0)
12V – 24V
Power Interface
USB port type C with QC 3.0
12-24V via 5.5mm barrel connector
Display
OLED
OLED
Weight
36.5g
30g
Material
Aluminium
Plastic
Ergonomic grip
✓
x
Tip (default)
chisel
conical
Heat-up speed
22 seconds
11 to 40 seconds (depending on power source
Menus
not much intuitive
very intuitive
Open source firmware
✓
✓
Wrapping Up
As I've mentioned previously, I've been using the TS80 soldering iron for a while and I really like it. It is very practical for small soldering jobs and it doesn't ocuppy much space in my workbench.
Although I don't have much experience soldering SMD components, I've found it easier with this soldering iron.
Should you get a TS100 or TS80? Both are good soldering irons and nowadays I've been using the TS80 more often. But I don't feel much difference in terms of performance soldering with one and with the other.
Many people in the RC community like the TS100 better because they can power it with a 4s to 6s LiPo via 5.5mm barrel connector. However, you can easily get a LiPo to USB adapter or get a proper power bank and make it completely portable.
Whether you chose the TS80 or the TS100 soldering iron, you'll get a great soldering iron. Get your TS80 soldering iron, if you don't have it already.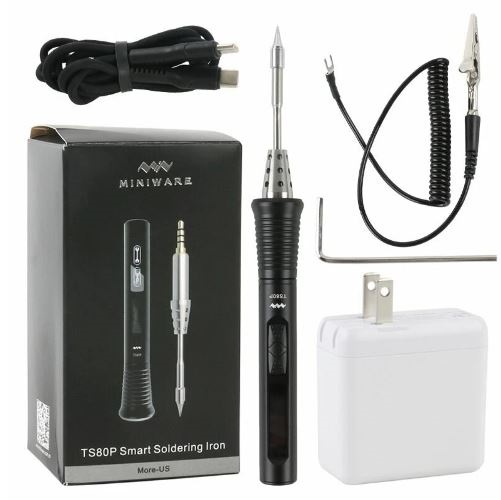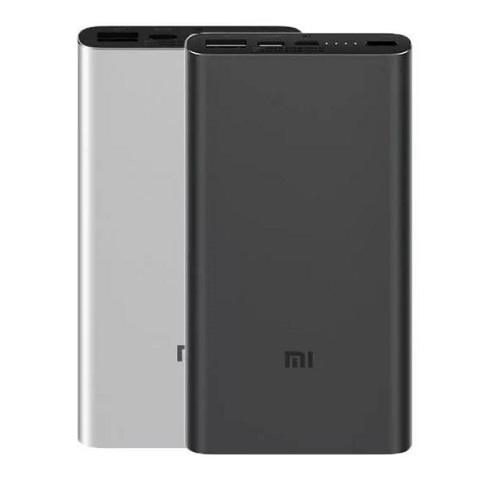 I hope you've found my review about the TS80 soldering iron useful.
Finally, you can also read our review about the TS100 soldering iron: TS100 Soldering Iron Review – Handy Portable Soldering Iron
You may also like reading:
Thanks for reading.
---
[Recommended Course] Learn ESP32 with Arduino IDE
Register in our brand new ESP32 course with Arduino IDE. This is our complete guide to program the ESP32 with Arduino IDE, including projects, tips, and tricks! The registrations are open, so sign up now.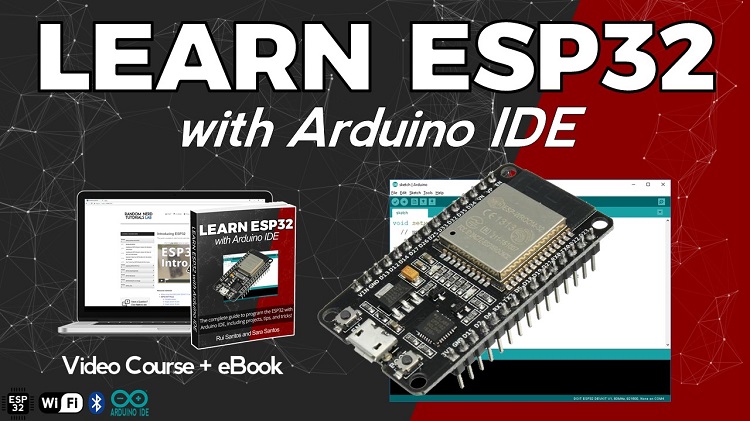 ---
Other RNT Courses
Build IoT projects and home automation gadgets with the ESP8266 Wi-Fi module.
Build a home automation system using open-source hardware and software.
Build 25 cool Arduino projects with our course even with no prior experience!