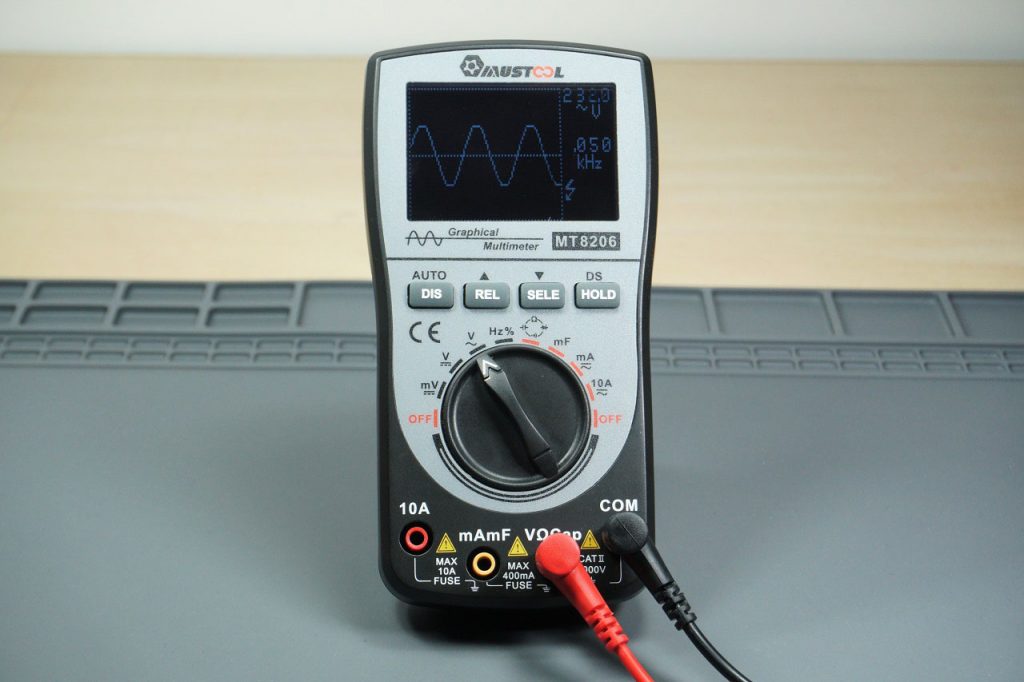 In this article we're going to review the MUSTOOL MT8206 Multimeter. The MT8206 combines an auto-range multimeter with a graphical waveform display so that you can see how voltage and current measurements change over time (like in an oscilloscope).
Although the product page says it is a "multimeter and oscilloscope 2 in 1", it can't be called an oscilloscope. It doesn't have labeled scales and other basic functionalities you would expect in an oscilloscope. I would rather call it a "waveform display".
Where to Buy?
The MT8206 Multimeter Oscilloscope (2 in 1) was kindly sent to review from Banggood. You can learn more about this device by visiting the product page below.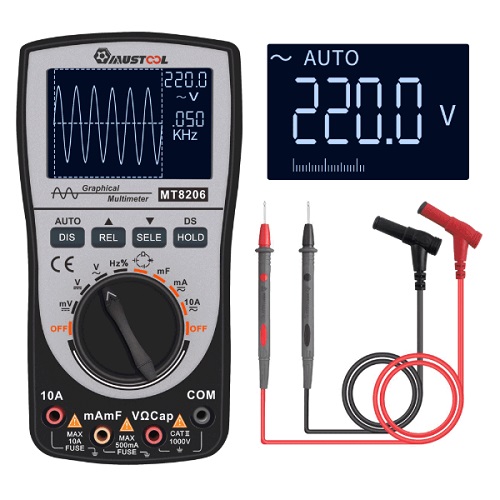 MUSTOOL MT8206 Multimeter with Waveform Display
as of June 13, 2021 8:49 pm
Although the MT8206 has a 5-star rating on its product page, for around $60 I was very disappointed with this product – continue reading to see why.
You might liked reading: Best Low Cost Multimeter (ANENG AN8002)
Unboxing
The MT8206 came in a cardboard box as shown in the figure below. Inside the package there is the multimeter, a pouch, a pair of probes, and an instructions manual. The instructions manual comes in English and explains in great detail how to use the device.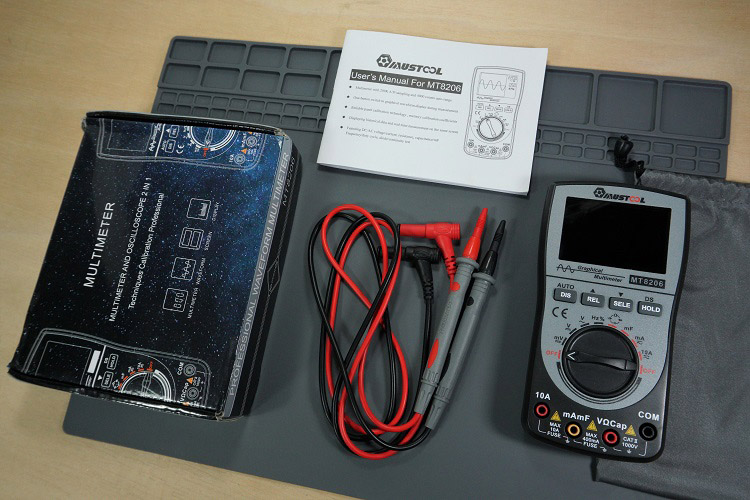 The probes seems to be really good in a high-quality plastic and the ends are protected with caps.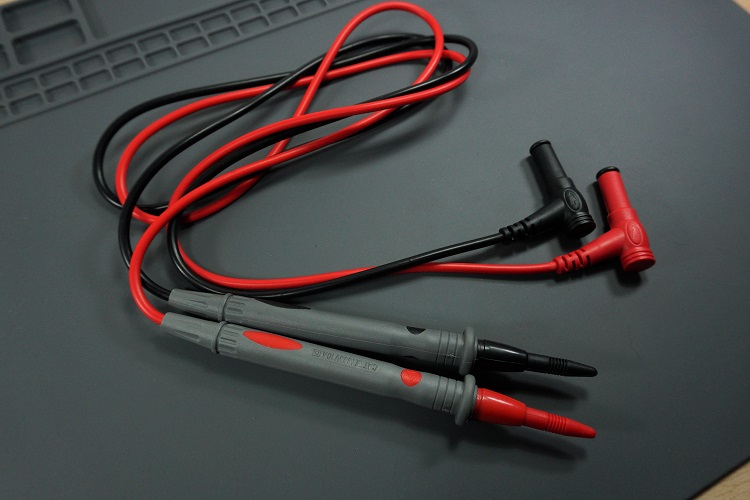 The multimeter itself seems made out of cheap plastic and the tilt stand at the back is too thin for the multimeter's size.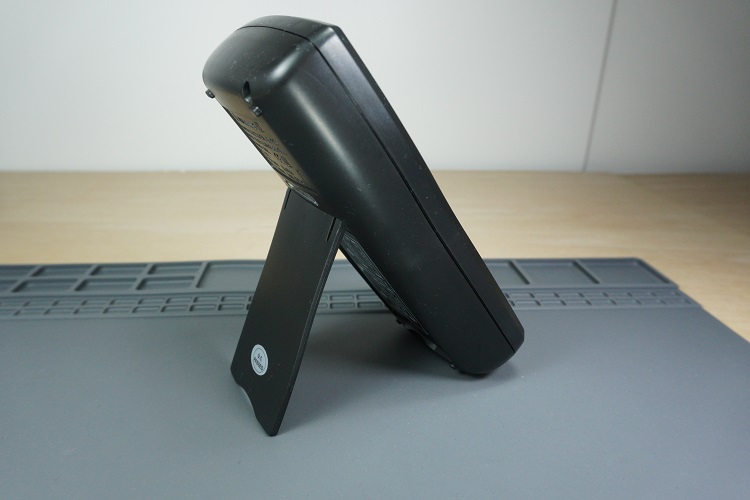 The multimeter requires 3 AA batteries to operate and they are not included. The batteries are placed under the tilt stand.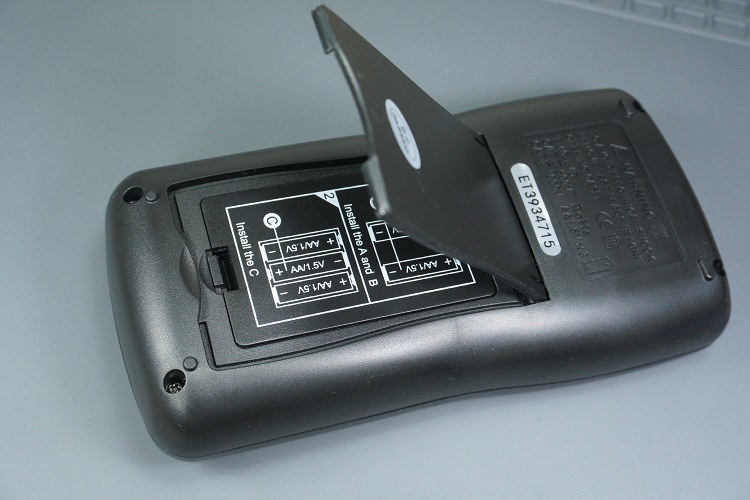 Features
The MT8206 has 200k A/D sampling and 4000 counts autorange. It measures DC/AC current and voltage, resistance, capacitance, frequency, duty cycle, diode and continuity test.
During measurements, besides the actual reading, it also displays a 41-segment analog bar, which I didn't find very useful.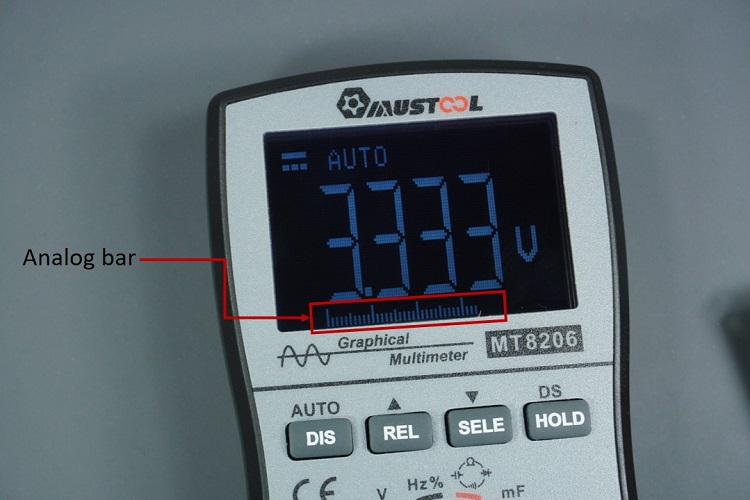 It comes with a lot of other functionalities that can be useful, and they are well described on the instructions manual. For example:
Relative value measurement (REL) mode that displays the difference between the current measurement and the reference value (the manual explains how to use it).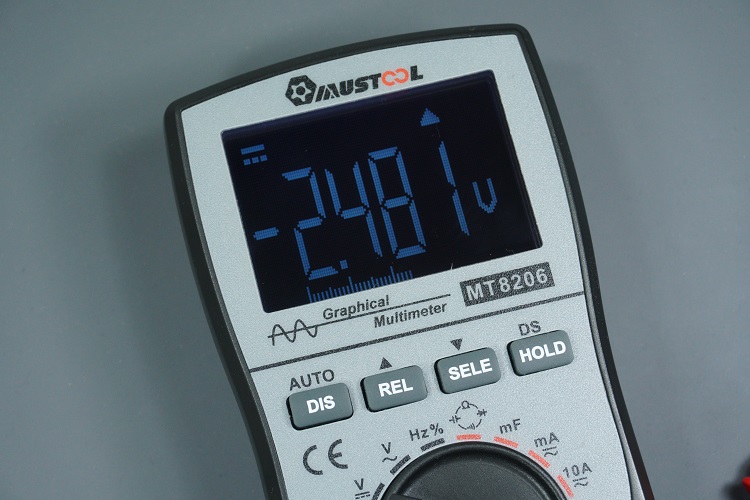 Holding and saving data: it allows you to save 100 sets of data and 10 waveforms.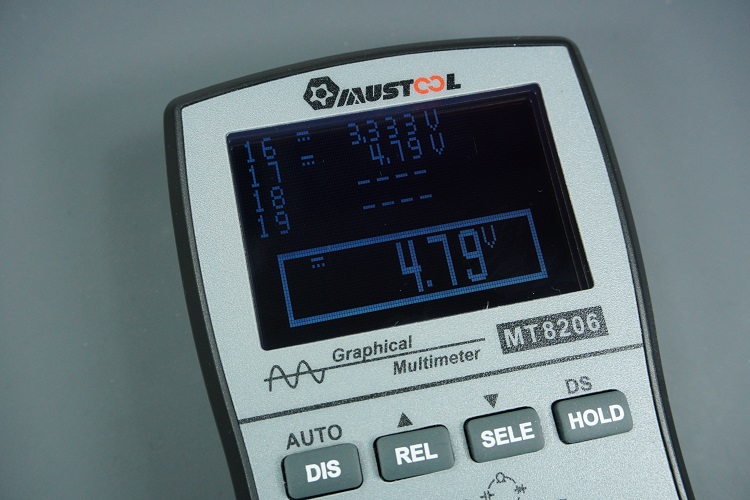 Show saved and current data at the same time: this is useful to compare measurements.
Waveform display: displays a representation of the voltage and current over time.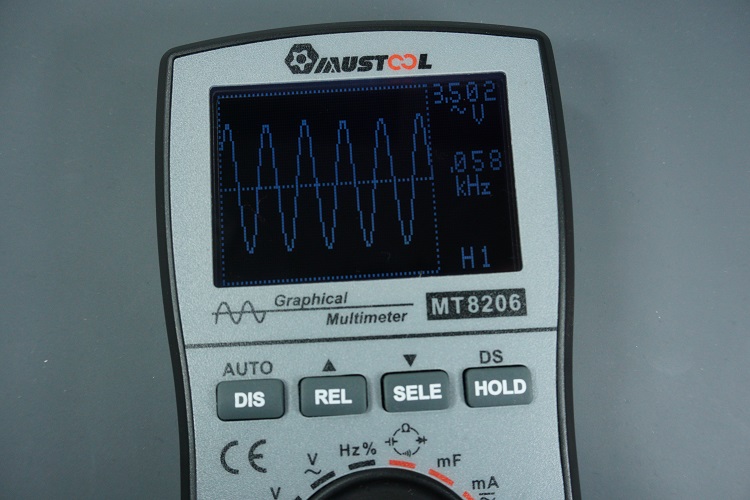 The instructions manual is very good and explains in detail how to use all the multimeter's functionalities.
Our Opinion about the Mustool MT8206
Our first impression about this tool was good, because on the product page you can read "2 in 1 Intelligent Digital Oscilloscope Multimeter". So, you would expect a multimeter with a built-in basic oscilloscope. But that's not exactly the case.
I was very disappointed when I started experimenting because the MT8206 lacks most basic functionalities of an oscilloscope.
It doesn't have scales on the axis. Even though you can adjust the base time, there isn't any indication of time scale selected, making it impossible to take any time measurements. There isn't any label on the vertical axis either, but there's an indication of the voltage value and frequency.
Additionally, only repeatable waveforms can be measured for DC voltage. Moreover, the display has low resolution and the refresh is very slow, which makes the waveform distorted. The following waveform is a PWM signal. It definitely doesn't look good.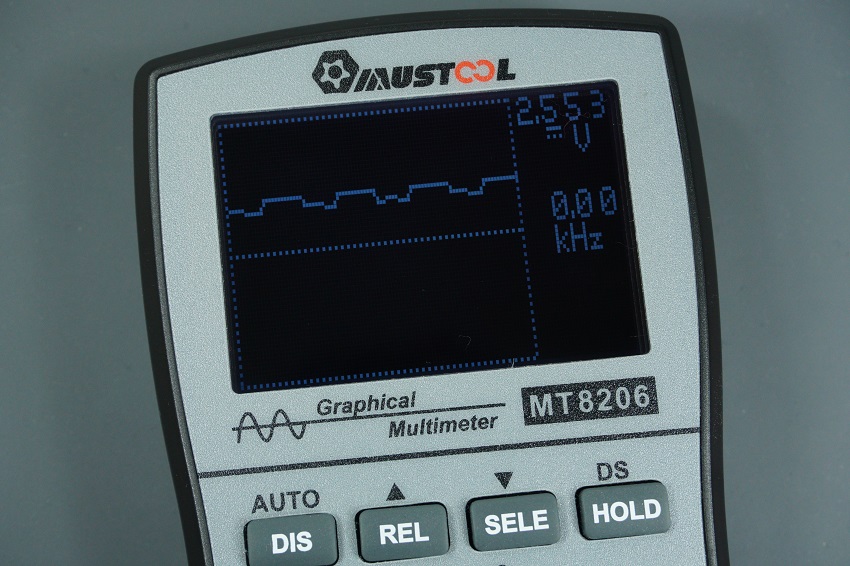 If you need a real oscilloscope then this probably won't work for you. However, you'll never find a real scope for this price. But, in my opinion, there are better toy oscilloscopes than this one. For example, the JYETech DSO150 Digital Oscilloscope works way better than this. Read our review: JYETech DSO150 Digital Oscilloscope Review.
The digital multimeter functions are very useful but you can get a better multimeter for this price. Additionally, there are some things that I didn't like. For example, it beeps too loud and it is impossible to turn it off. However, I've read that Mustool released an improved version that has silent mode – so that should be already fixed.
The multimeter takes too long to respond to button presses and the buttons get stuck very easily. Additionally, it is made out of cheap plastic and the tilt stand is very thin. The other Multimeter features work as expected.
Wrapping Up
Overall, I am very disappointed with this product. I'm not saying that this is not good for some applications, but I was expecting something better for the price.
The MUSTOOL MT8206 might be good for small repairs and troubleshooting and the signal representation may be useful, regardless of its accuracy. However, because the display updates so slowly, I'm not sure if the waveform display function will be useful.
The multimeter's functions work as expected, but I think you can get a better multimeter for the price. If you're looking for a multimeter, I recommend you that you read: Best Multimeters Under $50 – Buying Guide. If you're looking for a multimeter or an oscilloscope, you may find the following reviews useful:
I hope you liked reading our review about the MUSTOOL MT8206.
Thanks for reading.
---
[Recommended Course] Learn ESP32 with Arduino IDE
Register in our brand new ESP32 course with Arduino IDE. This is our complete guide to program the ESP32 with Arduino IDE, including projects, tips, and tricks! The registrations are open, so sign up now.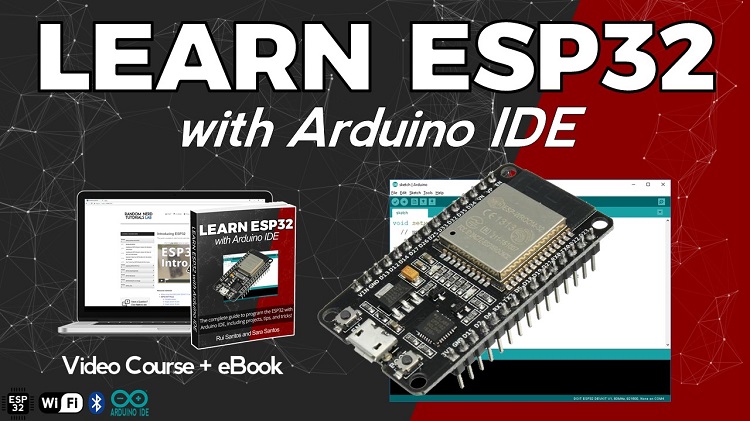 ---
Other RNT Courses
Build IoT projects and home automation gadgets with the ESP8266 Wi-Fi module.
Build a home automation system using open-source hardware and software.
Build 25 cool Arduino projects with our course even with no prior experience!