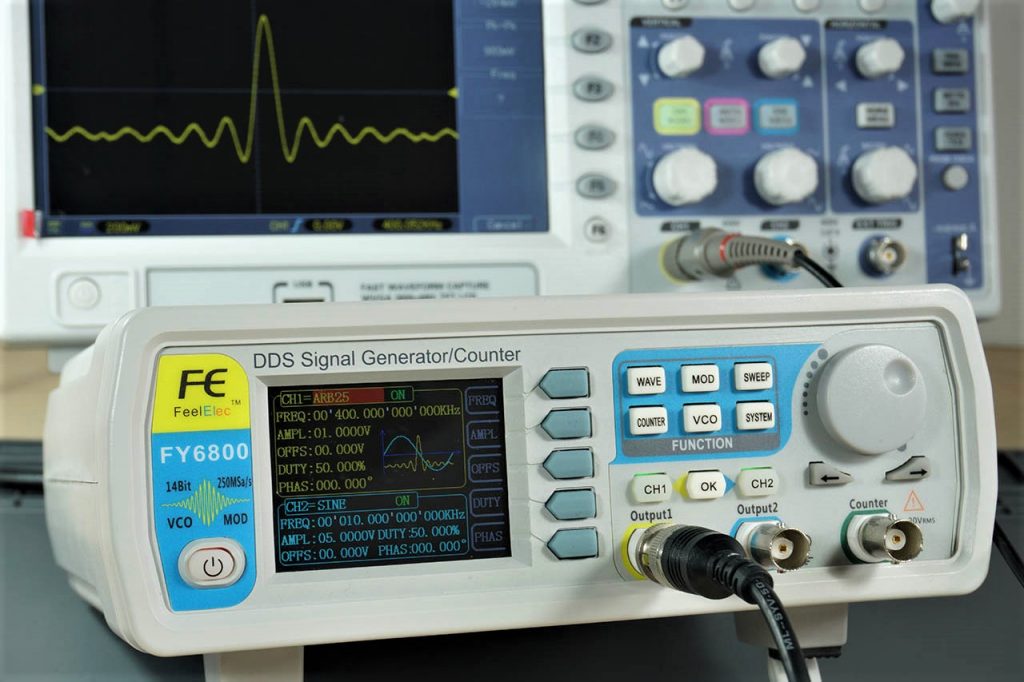 In this post we're going to review the FY6800 signal generator and show you some reasons why this is one of the best signal generators when it comes to price-quality ratio.
The FY6800 is a 2-Channel arbitrary waveform signal generator. This device comes with all the features that you might want in this kind of tool, because it comes with a:
Signal generator
Arbitrary waveform generator
Pulse generator
Analog/Digital modulator
VCO (Voltage Control Output) function
Sweep functions
Counters and frequency meter
Additionally, there is also a PC software that you can use with the FY6800 to use more advanced functions and edit and create user defined waveforms.
Where to Buy
You can get the FY6800 Arbitrary Waveform Signal Generator on Banggood for approximately $120. You can either choose the 60MHz or 30MHz version: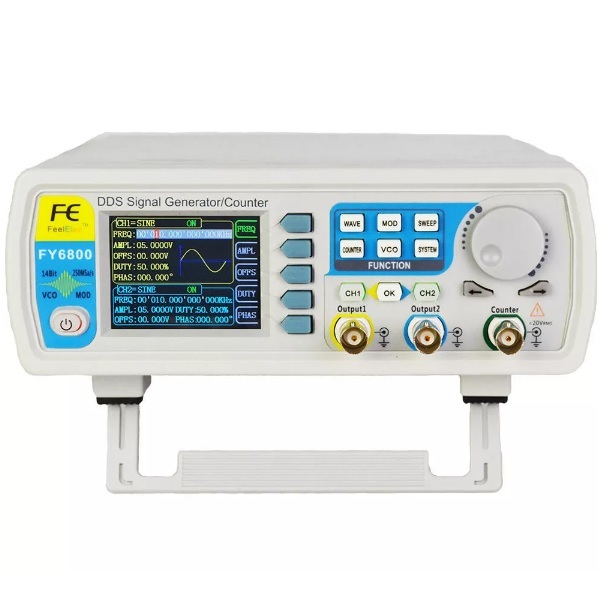 [60MHz] FY6800-60M 2-Channel DDS Arbitrary Waveform Signal Generator
as of September 6, 2023 8:07 pm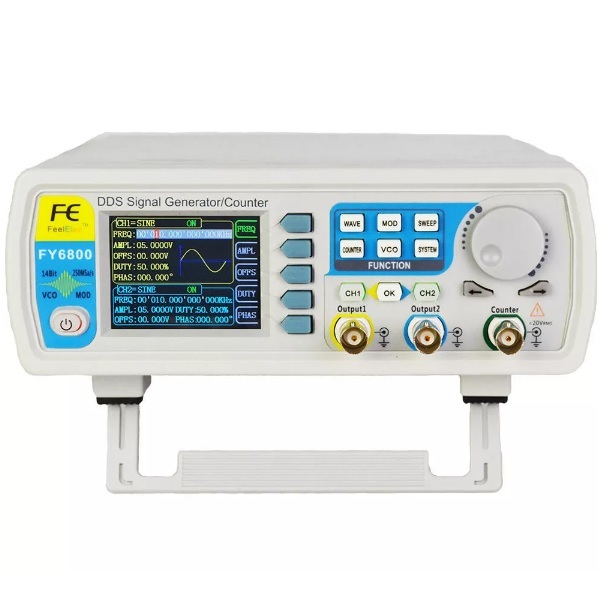 In this article we're reviewing the FY6800-60M (60MHz version), but they have the exact same functionalities.
FY6800 Unboxing and Overview
The signal generator came really well packed in a cardboard box and protected with bubble wrap. So, it arrived in a perfectly good condition. After unboxing the package, this is everything you should have: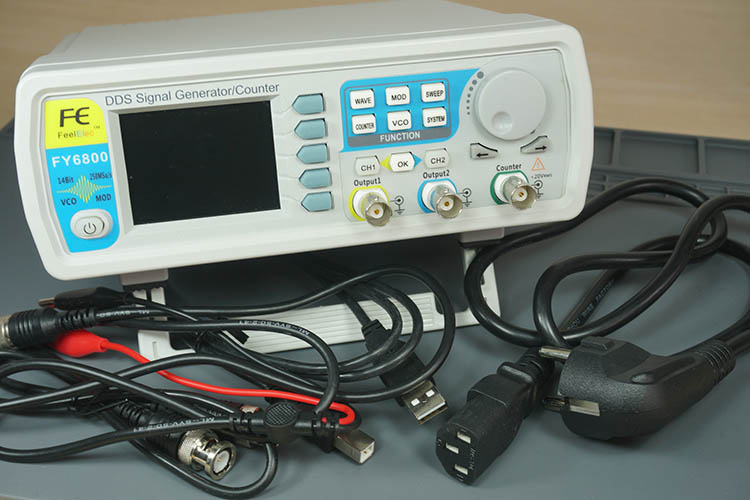 1x FY6800 DDS Signal Generator (FY6800-30MHz or FY6800-60MHz)
1x Power Cable (EU or UK or US plug)
1x USB Data Cable
2x BNC-Clip Cable (Signal output cable)
1x BNC-BNC Cable (Signal output cable)
Features and Specifications
The FY6800 uses Direct Digital Synthesizer (DDS) technology which provides stable, precise, and low distortion signals. It has a sturdy ABS plastic shell with workbench design. You can power it using a 100-240V AC (EU or UK or US plug).
The signal generator comes with a 2.4 inch TFT Color LCD with 320×240 resolution. The FY6800 user interface displays the parameters and waveforms of the two channels at the same time. This is handy to give you a general overview on how the generated signal will look like.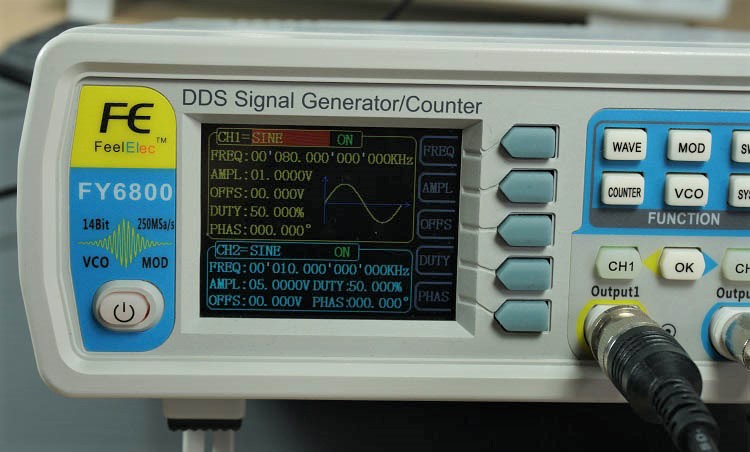 It has some shortcut keys and a well organized graphical user interface. At first, you may found it a bit difficult to select the settings you want and adjust the parameters on the display. But after a few minutes of use, you'll understand how it works and you'll get used to it.
Here's a few more specifications about this device:
14-bit high-speed D/A converter chip (5Vpp output – error is less than 1mV), 250MSa/s sample rate, 14 bits vertical resolution.
97 arbitrary waveforms (33 preset waveforms and 64 user-defined waveforms).
33 preset waveforms: Sine, Square (Duty Cycle adjustable), Pulse (Pulse width and cycle time adjustable), Triangle, Ramp, CMOS (0-10V), four channels TTL, Exponential Rise, Exponential Fall, Noise, ECG, DC, etc…
You can store 64 user-defined waveforms, each one can have up to 8192 points * 14 bits.
VCO Function (Voltage Control Output)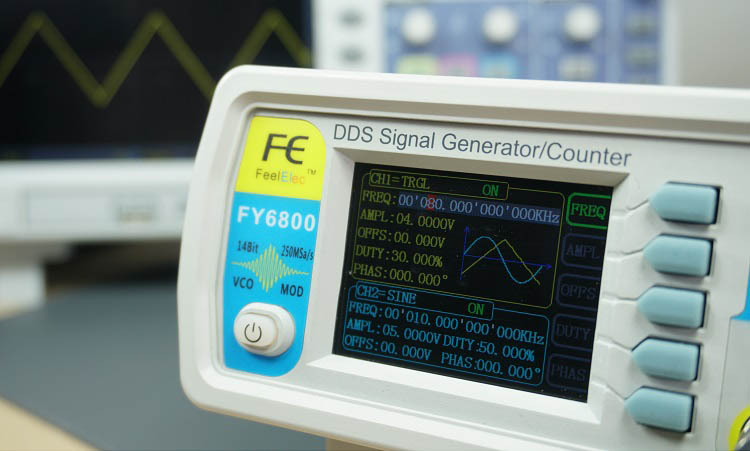 Minimum output amplitude is 1mV and amplitude range is 0-20Vpp.
Phase adjustment (precision 0.01°).
Adjustable duty-cycle for each channel 0.01%-99.99%, the adjusting resolution is 0.01%.
-10V to +10V DC Offset function, with 0.001V resolution.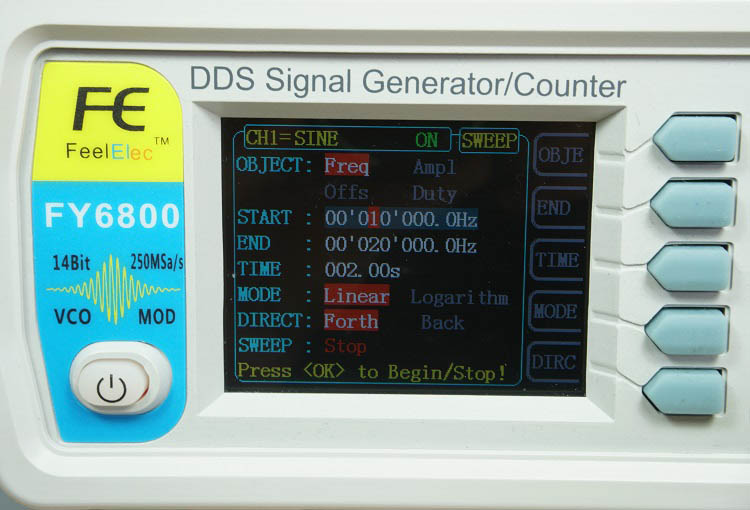 Burst Output Function: manual Trigger, internal CH2 Trigger, and External Trigger for your options. It can output 1-1048575 pulse.
100MHz Frequency meter function: it can measure frequency, period, pulse width and duty cycle. Max frequency is 100MHz and Min frequency is 0.01Hz.
Supports two or more signal generators connected to achieve multi-channel output, the maximum support 16-channel synchronous output.
The signal generator also supports various modulation types: AM, ASK, PSK, BURS, AM, FM, and PM modulations.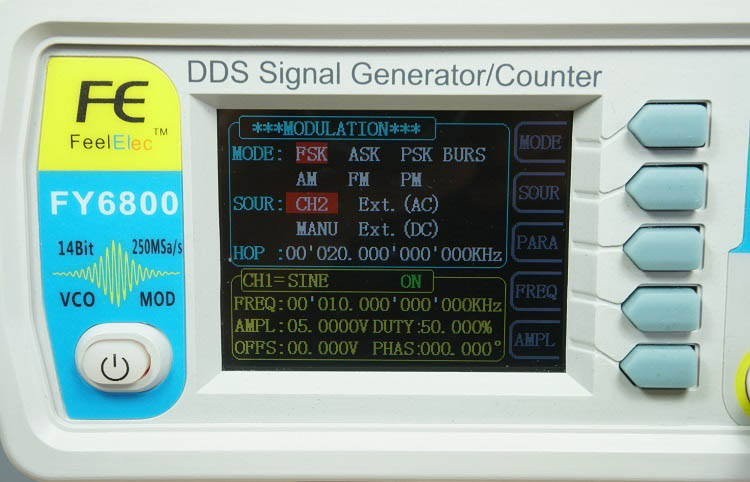 The device has 2 channels (Output1 and Ouput2) and a counter: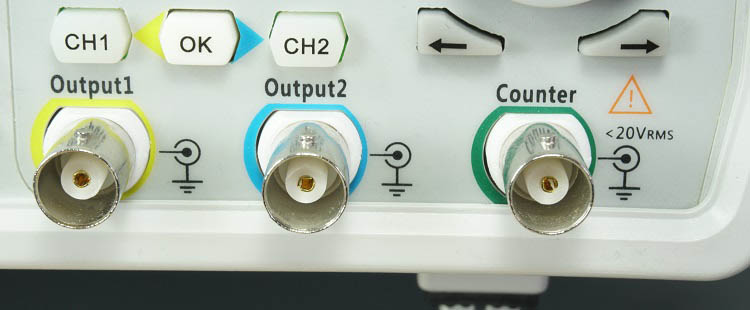 At the back of the signal generator there are several types of connectors: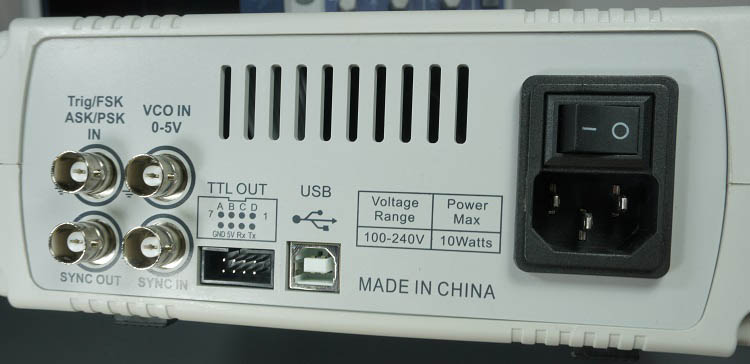 Quick Test – Sweep Function
The signal generator comes with a Sweep Function:
It can sweep 4 properties of signals: frequency, amplitude, offset and duty cycle;
You can set the sweep time between 0.01s and 999.99s;
It has linear and logarithm mode;
Forth to back and back to forth sweep directions.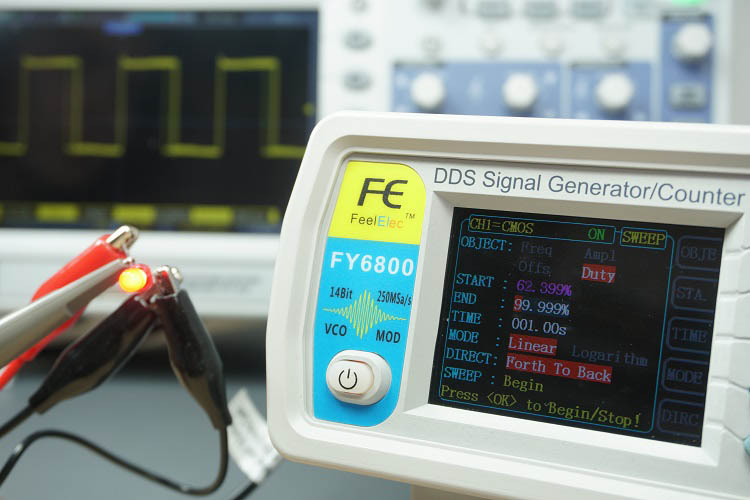 The sweep function can be very handy to test your circuits with PWM, for example.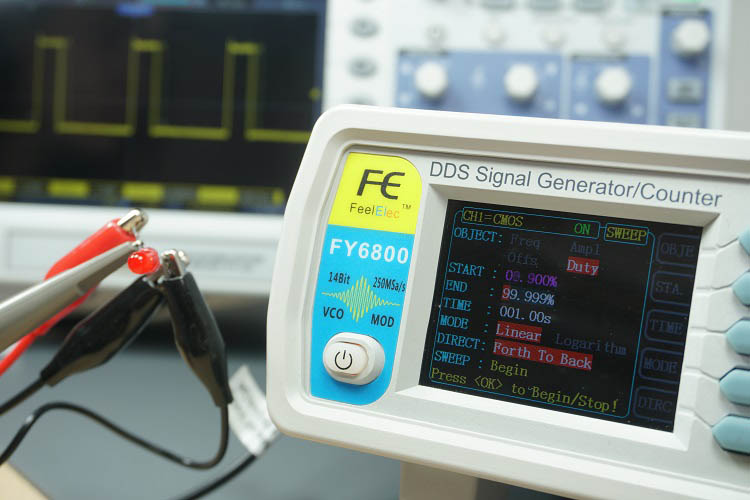 PC Software for FY6800
All functions and features can be controlled by free Windows PC software that the manufacturer provides. The communication protocol is open-source, so you can develop custom code and make integrations with these devices.
The software is perfect to edit and create user defined waveforms. It also has all the visual control of various parameter indicators.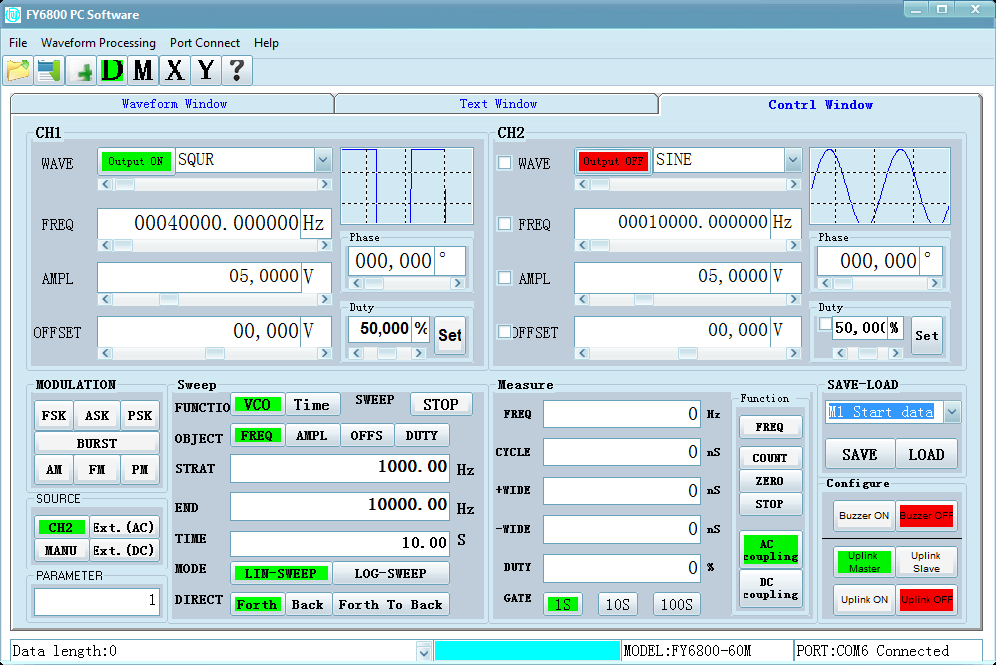 Additionally, you can draw your own waveform on the software.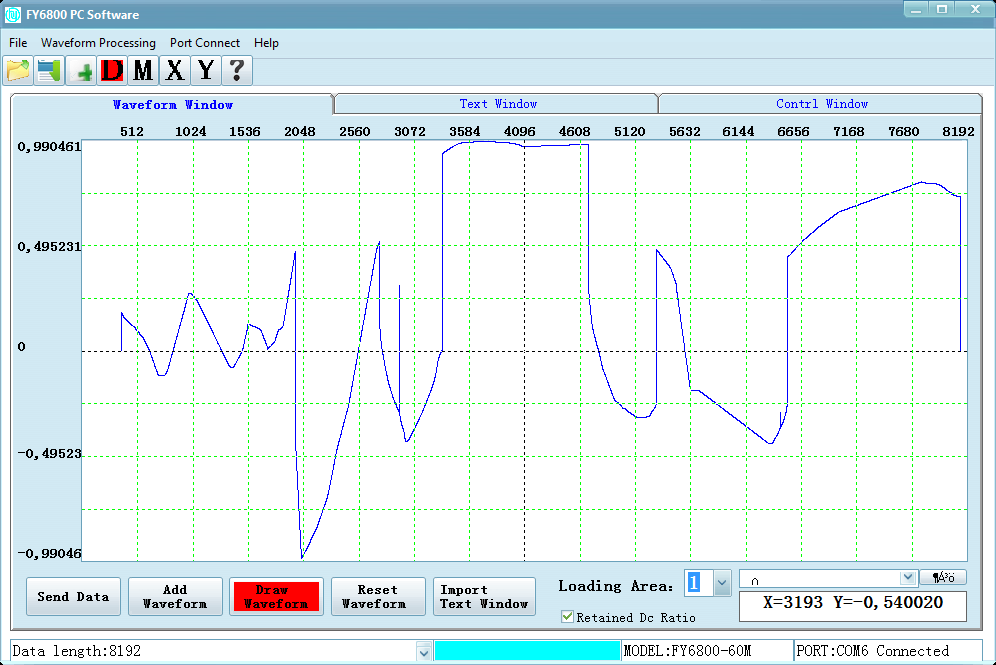 The signal generator will output your waveform. It looks identical as you can see in our oscilloscope screenshot.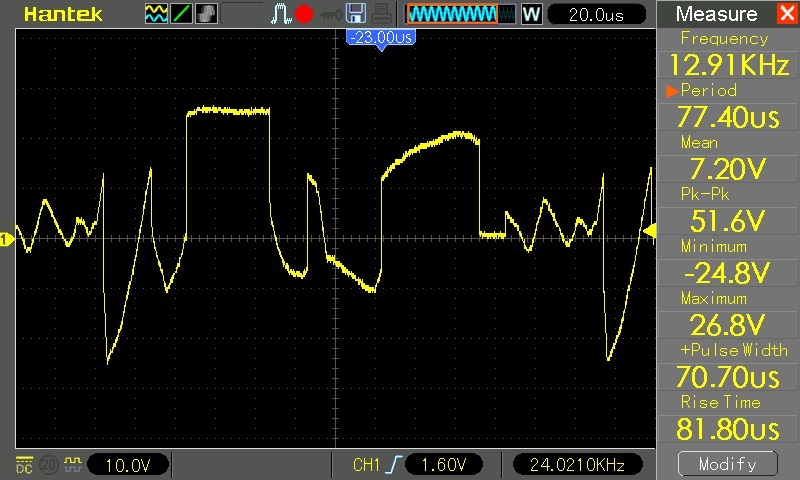 Note: to take advantage of the full capabilities, you need to download the software and the user manual from the manufacturer's website.
Wrapping Up
In my opinion, the FY6800 is probably the best signal generator / frequency meter you can buy at this price point, today. During my tests I found that it is fairly accurate even in low and high frequency's extremes. It has probably all the features that you would need of a frequency generator.
This is a great tool for beginners, hobbyists and even experienced users looking for an inexpensive tool with all the functionalities that you might need. If you're interested, you can click the product card below to order it: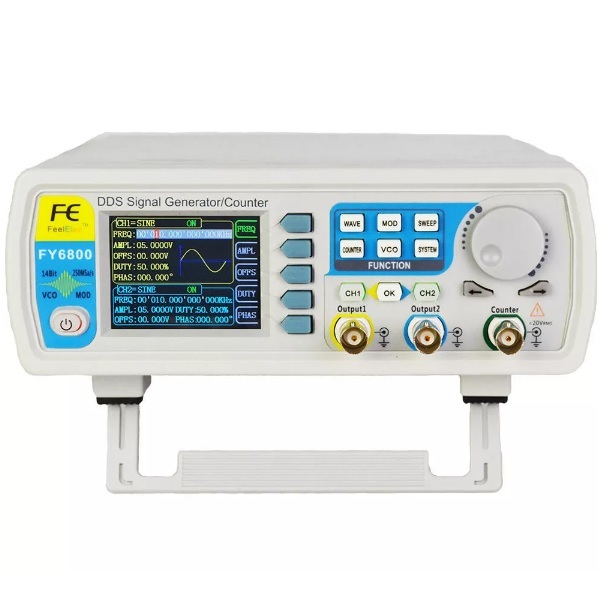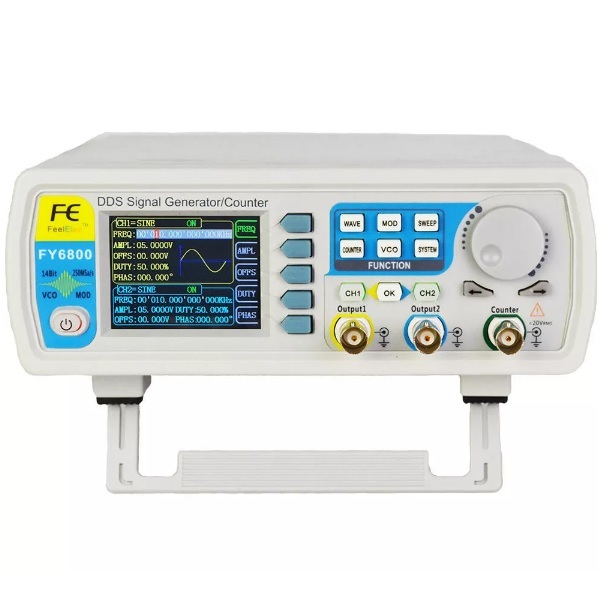 If you're looking for a multimeter or an oscilloscope, take a look at the following reviews:
I hope you liked reading our review about the FY6800 signal generator and found it useful.
Thanks for reading.
---
[Recommended Course] Learn ESP32 with Arduino IDE
Register in our brand new ESP32 course with Arduino IDE. This is our complete guide to program the ESP32 with Arduino IDE, including projects, tips, and tricks! The registrations are open, so sign up now.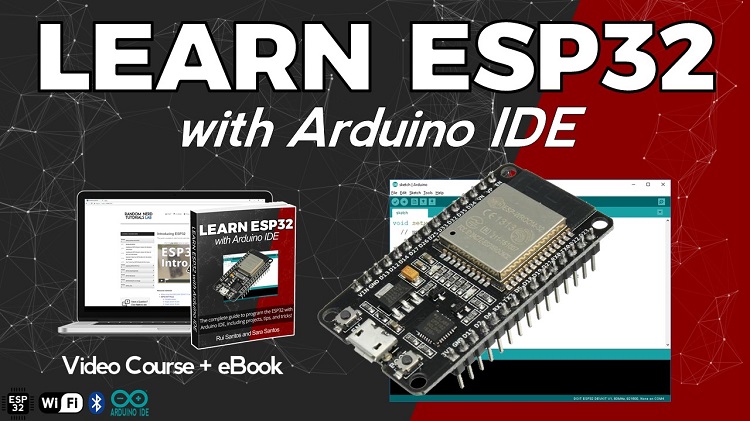 ---
Other RNT Courses
Build IoT projects and home automation gadgets with the ESP8266 Wi-Fi module.
Build a home automation system using open-source hardware and software.
Build 25 cool Arduino projects with our course even with no prior experience!