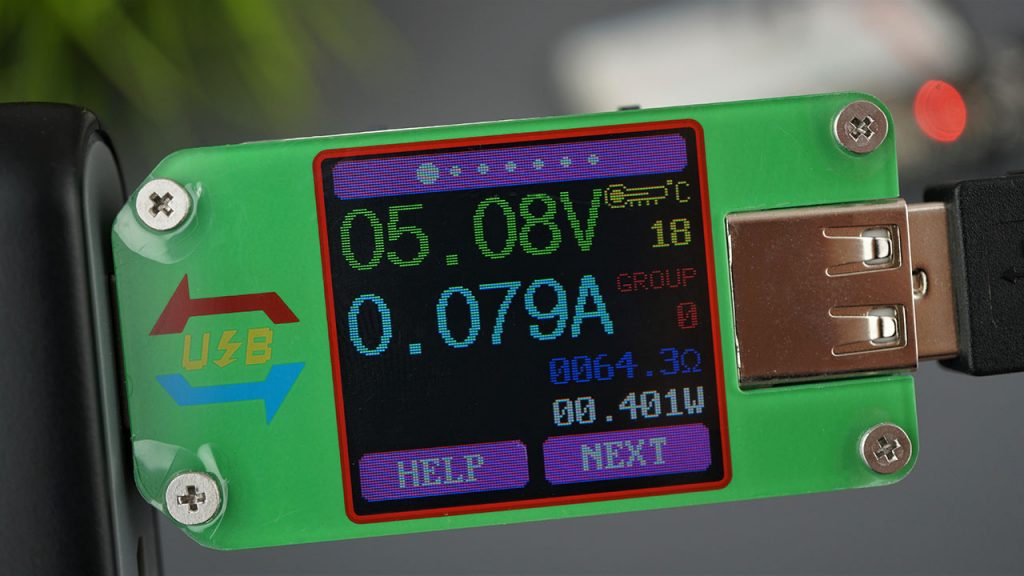 The UM24/UM24C USB Meter by RUIDENG allows you to measure voltage, current and power consumption directly from any USB device. It's like a multimeter for USB type devices. The UMXX USB Meter has been in our radar for a while, but we finally got it and we'll review it in this article.
UM24 vs UM24C
The UM24 USB meter comes in two different versions: the UM24 and UM24C. The UM24C is slightly more expensive, because it has a built-in Bluetooth board that you can use to connect to an Android App or Windows PC software.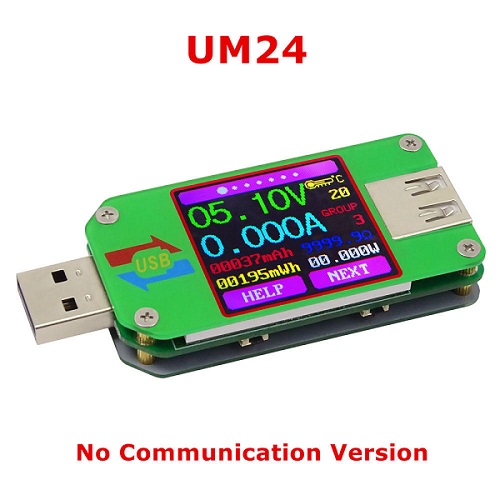 Banggood - UM24 USB Voltage Current Power Meter/Tester
as of June 13, 2021 1:31 am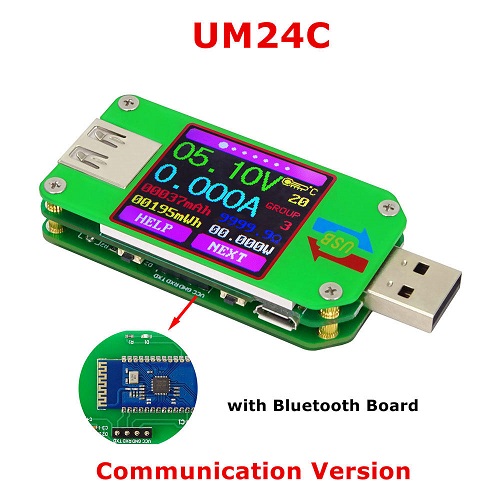 Banggood - UM24C USB Voltage Current Power Meter/Tester (with Bluetooth communication)
as of June 13, 2021 1:31 am
Product Details and Specifications
Voltage range: 4.50 – 24.00V
Voltage resolution: 0.01V
Voltage accuracy: ±(0.2%+1 digit)
Current range: 0.0 – 3.000A
Current resolution: 0.001A
Current accuracy: ±(0.8%+3 digit)
Capacity accumulation range: 0 – 99999mAh
Energy accumulation range: 0 – 99999mWh
Load impedance range: 1.5 – 9999.9Ω
Temperature range: -10ºC~100ºC / 0ºF~200ºF
Temperature error: ±3ºC/±6ºF
Screen brightness: 0-5 level
Auto screen off time: 1 – 9 minutes
Voltage graphing range: 4.5 – 24.0V
Current graphing range: 0.0 – 3.0A
Screen: 1.44 inch color LCD display
Quick charge recognition mode: QC2.0/QC3.0
Refresh rate: 2Hz
UM24(C) vs UM34(C) vs UM25(C)
There are a few types of UMXX devices (the modules with a C in front of their name support Bluetooth communication). Here's the main specs and differences:
| Product model | UM24(C) | UM34(C) | UM25(C) |
| --- | --- | --- | --- |
| Image | | | |
| USB port | USB 2.0 | USB 3.0 | USB 2.0 |
| Expansion port | Micro USB Type B | Micro USB Type C | Micro USB Type C |
| Voltage range | 4.50 – 24.00V | 4 – 24.00V | 4.50 – 24.000V |
| Voltage resolution | 0.01V | 0.01V | 0.001V |
| Current range | 0.0 – 3.000A | 0.0 – 4.000A | 0.0 – 5.000A |
| Current resolution | 0.001A | 0.001A | 0.0001A |
| Quick charge mode | QC2.0, QC3.0 | QC2.0, QC3.0, Apple, Android DCP, Samsung | QC2.0, QC3.0, Apple, Android DCP, Samsung |
| Where to buy | Banggood | Banggood | Banggood |
For our needs, we've decided that the UM24C was more than enough, but if you need to work with USB 3.0 or detect a different type of Quick Charge mode, you can get a UM34(C) or UM25(C).
Where to Buy UM24?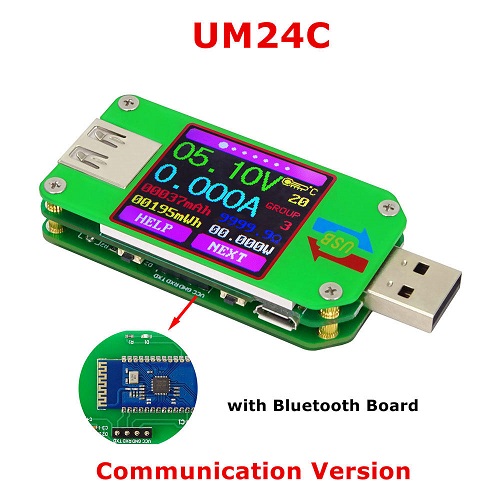 $24.50
in stock
2 new from $19.50
1 used from $18.93
as of June 14, 2021 5:20 pm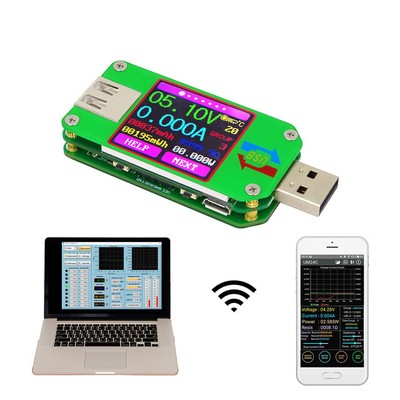 Where to Buy UM24C (with Bluetooth Board)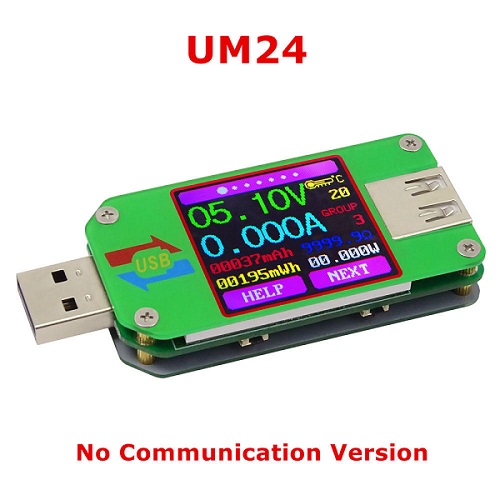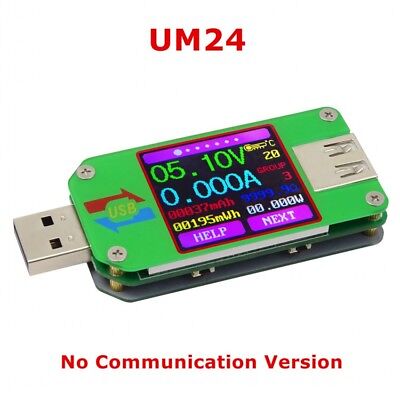 $16.79
in stock
2 new from $16.79
as of June 14, 2021 5:20 pm
If you decide to get the UM24C that comes with a Bluetooth board, you can download the PC software or Android App:
PC software supports Windows 7 and above.
Android phone supports Android 5.0 and above (compatible with 3 languages: English, Chinese and Russian) .
You can open this link to download the PC software, Android .apk, and instructions from the official source: Mediafire download folder.
Note: the preceding download link sends you to the official manufacturer source and we haven't tested that software. In our opinion, we think the color LCD displays everything that we need, but we like to have the option to use Bluetooth in the future.
Unboxing USB Tester
The UM24/UM24C USB Tester comes in a neat aluminium case well packed with a dense foam which holds the USB meter tightly.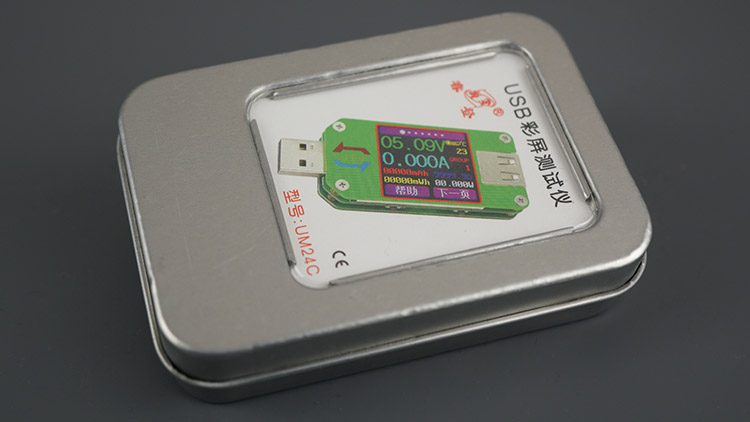 Inside the enclosure, it only has the USB meter – there are no instructions or accessories.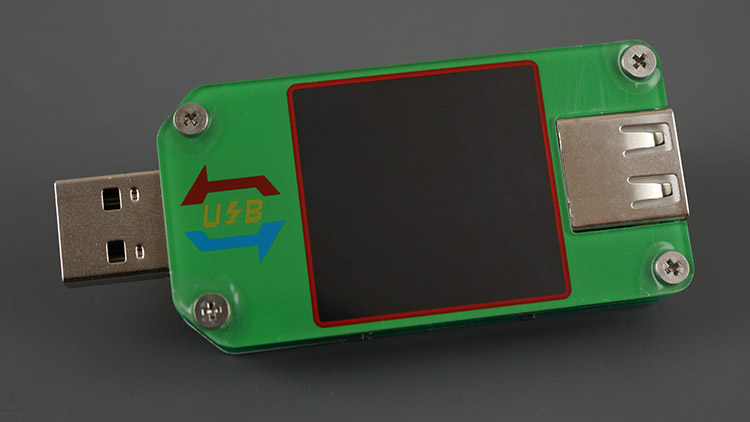 USB Input
This board comes with two USB input ports. You can either power the USB meter with a USB B input.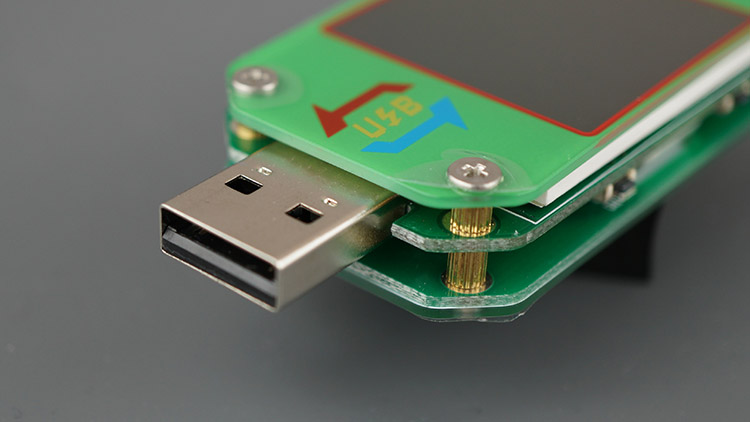 Or you can use the Micro USB Type B port to power it: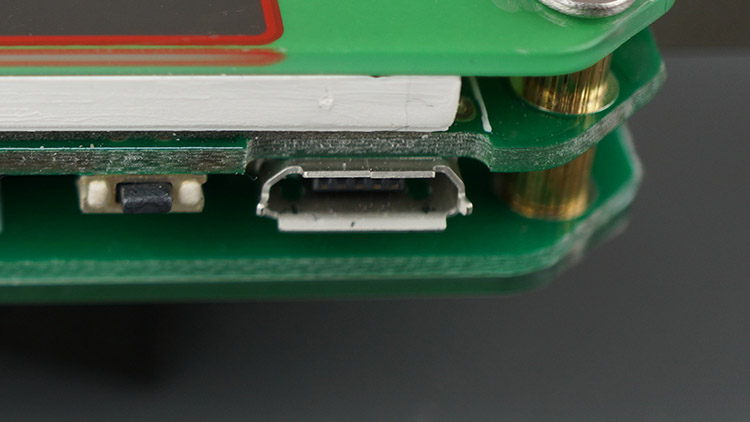 USB Output
On the other side of the board, you have a female USB B port. Here you connect the device you want to get power measurements.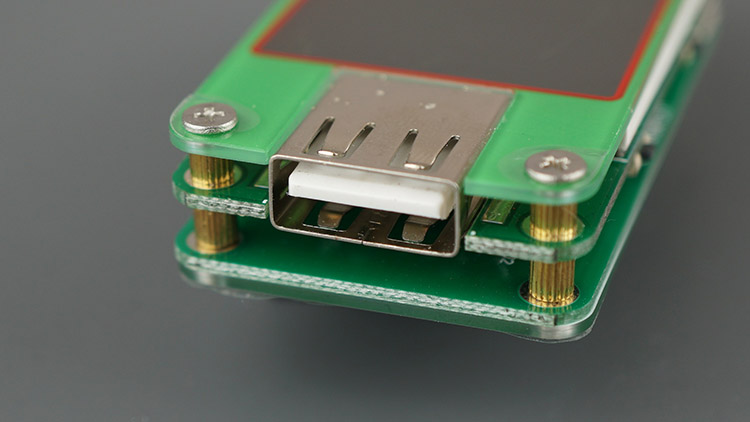 Buttons
This board also has 2 buttons on each side. These buttons are used to access the menus and change the settings. The two buttons on the bottom allow you to go to the Help menu or change to the Next interface.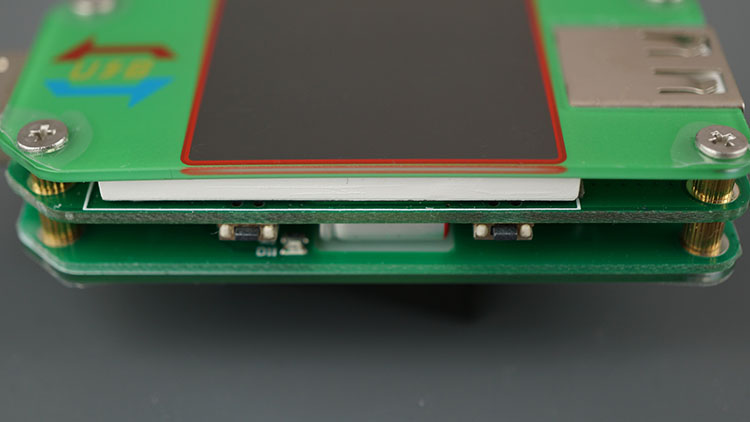 There are also two other buttons on top that allow you to rotate the screen orientation with a long press.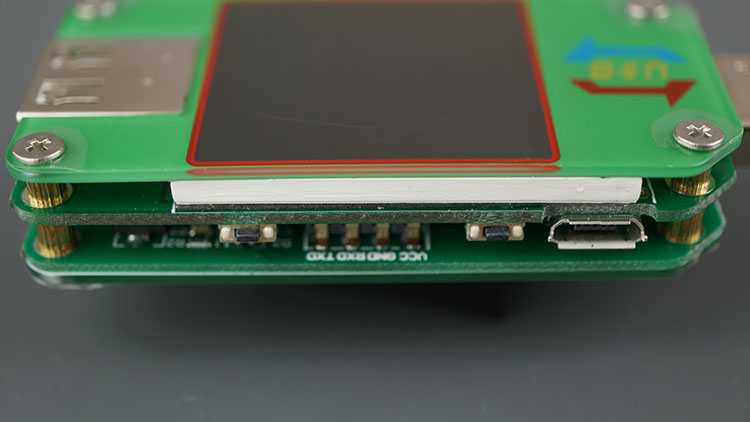 How to Use UM24 / UM24C USB Meter
For this demonstration, we'll be powering the UM24C USB Meter with a power bank in the USB B input and use a USB cable to power an ESP32 board. When you first apply power, you'll see the next loading screen.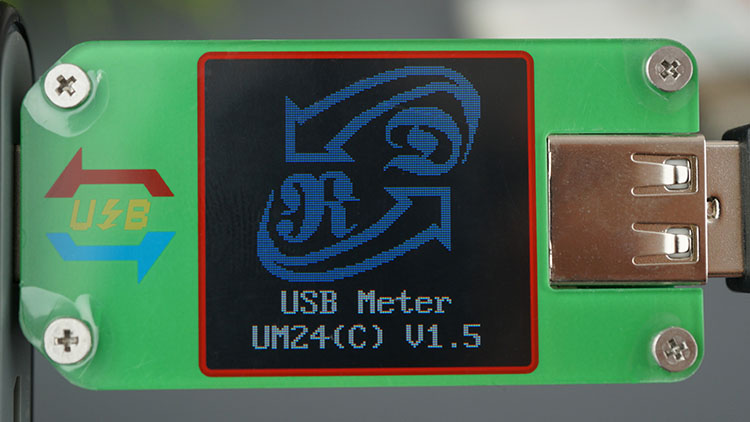 These USB Meters features 7 menus:
Main Interface
Quick Charger Recognition
Charging Recording
Wire Impedance Measurement
Voltage Graph
Current Graph
Settings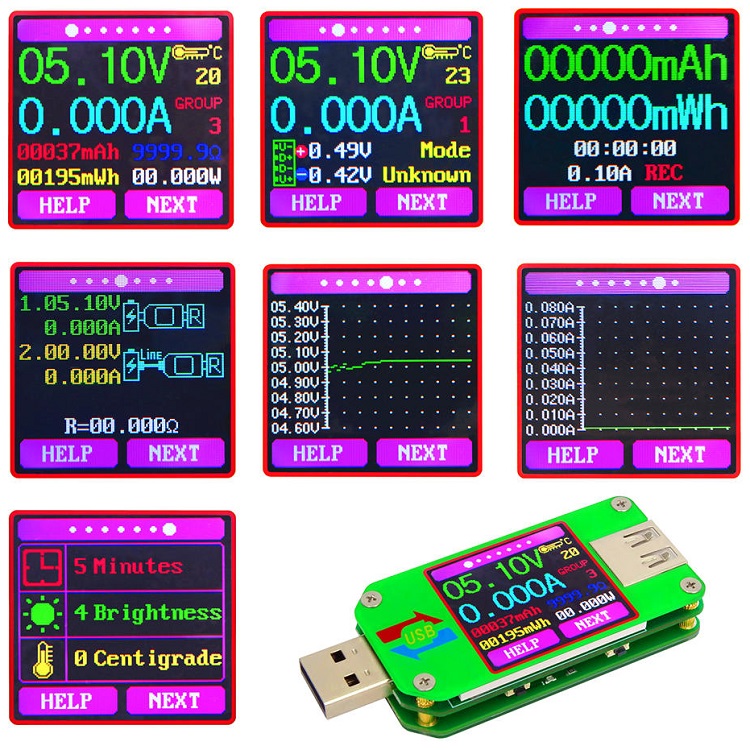 1. Main Menu
This is the main menu that appears and it displays: voltage, current, temperature (in Celsius or Fahrenheit), group, power consumption, cable impedance and more.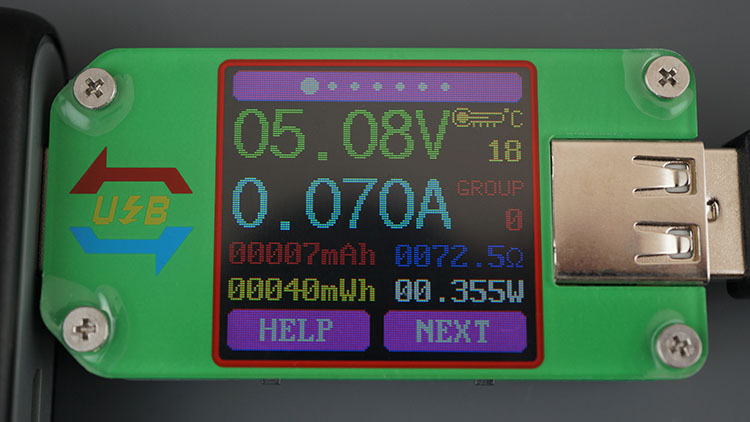 Help Menu
When you open the Help menu, you'll see what you can do in that specific screen. For example, with a long press you can either rotate the screen, clear the data group or change the data group.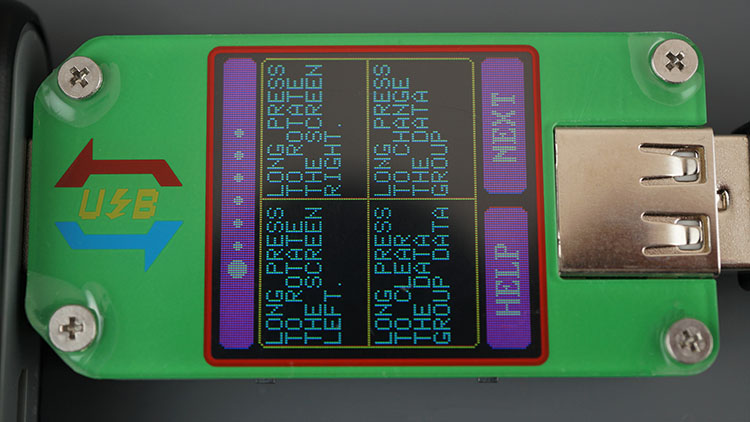 2. Quick Charger Recognition
In this menu, you can detect the type of Quick Charge mode. In this example I'm using a power bank and as you can see it says "Mode Unknown".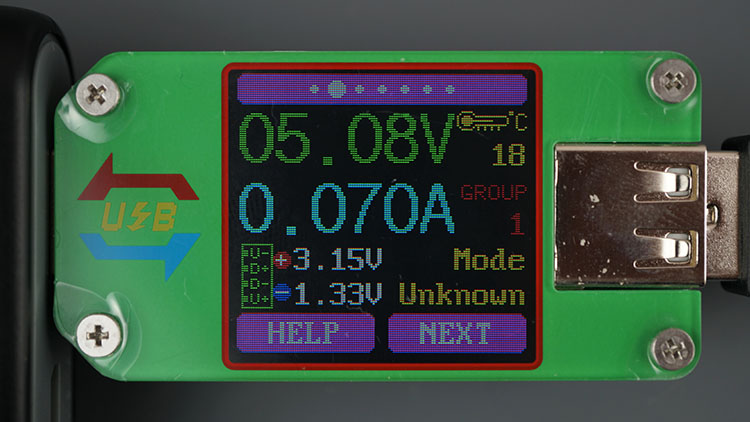 If I use my smartphone charger it detects properly as "Mode QC2.0".
3. Charging Recording
You can define a current threshold that when triggered will record the time, and power consumption during a charge.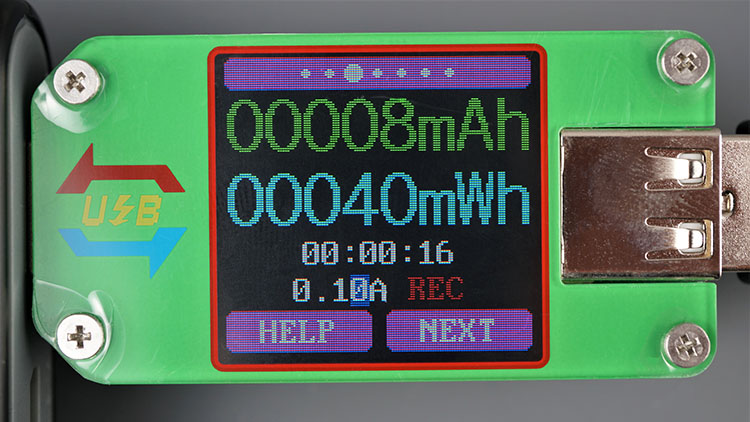 4. Wire Impedance Measurement
You can get the wire impedance measurement: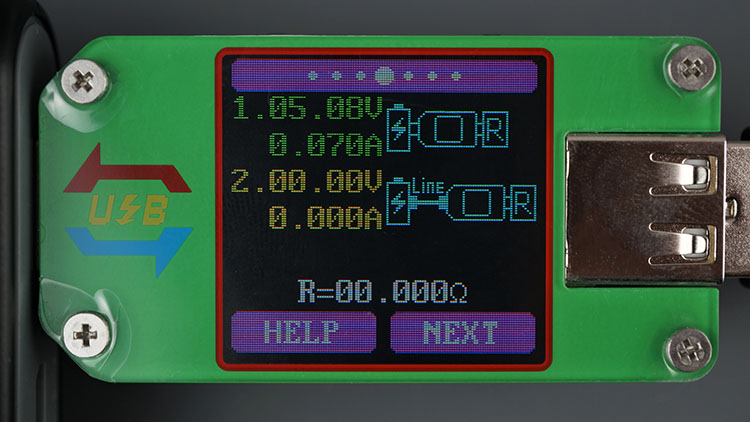 5. Voltage Graph/Plot
In this example, we're measuring the voltage that an ESP32 DO IT board is using while connected to Wi-Fi and hosting a web server. As you can see, it's using approximately 5.08V.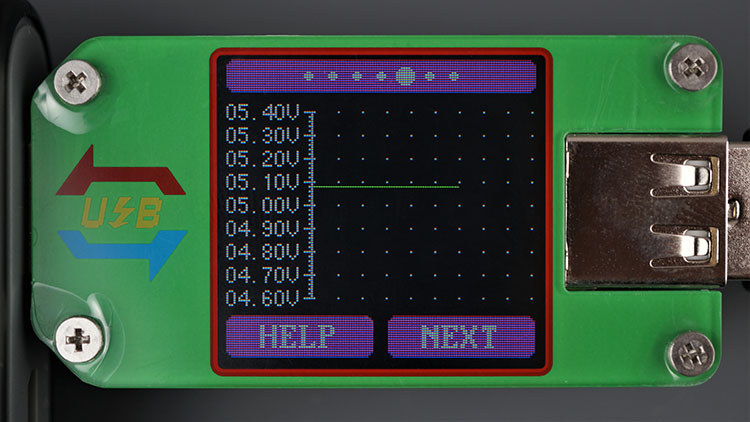 6. Current Graph/Plot
In terms of current, the ESP32 is consuming around 0.07A: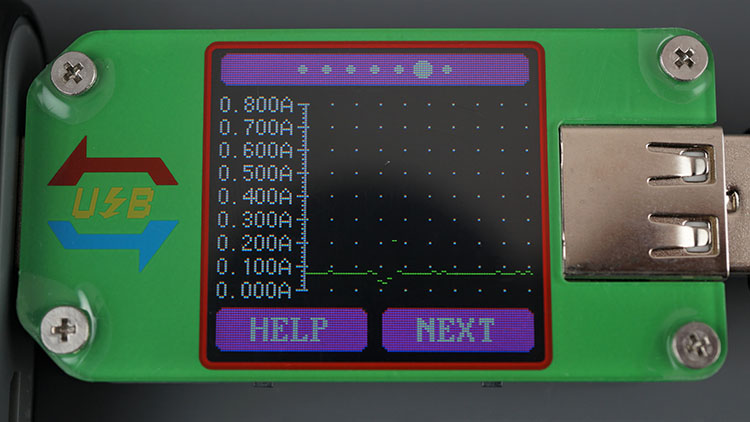 7. Change Settings
If you hold the bottom-right button, you can change the USB meter settings:
Auto screen off time from 1 minute to 9 minutes
Screen brightness between a 0 and 5 level
Temperature in Celsius or Fahrenheit (the temperature range is -10ºC~100ºC / 0ºF~200ºF with an error of ±3ºC/±6ºF)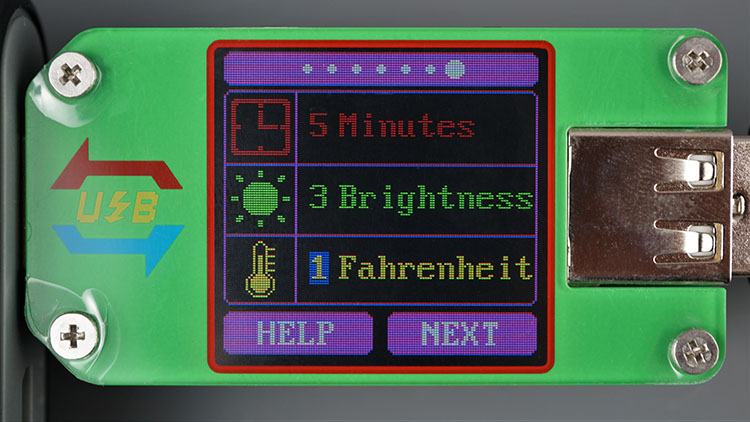 Wrapping Up
The USB meter can be a great addition to your electronics lab. It provides an easy way to measure power consumption (and other related measurements) of devices that support a USB port. In my case, the UM24 USB tester is very handy to give me an idea of power consumption of my ESP32 and ESP8266 projects.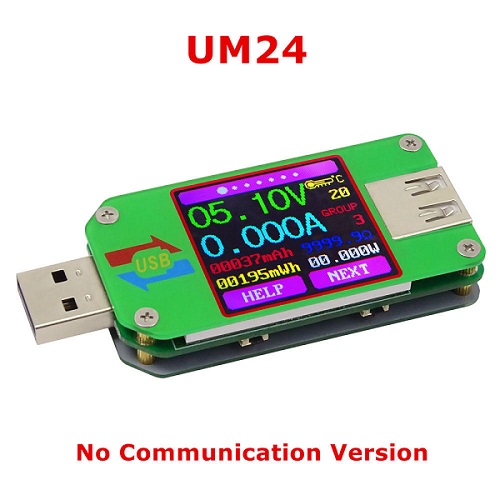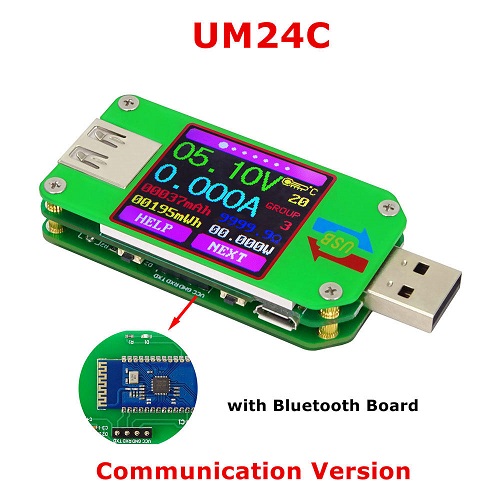 So, to conclude, the UM24 USB meter board is very well designed and versatile. I think it is a great tool for the average maker or electronics hobbyist.
We have other reviews that you may like:
Thanks for checking out this review, we'll have more very soon! Make sure you subscribe our newsletter.
---
[Recommended Course] Learn ESP32 with Arduino IDE
Register in our brand new ESP32 course with Arduino IDE. This is our complete guide to program the ESP32 with Arduino IDE, including projects, tips, and tricks! The registrations are open, so sign up now.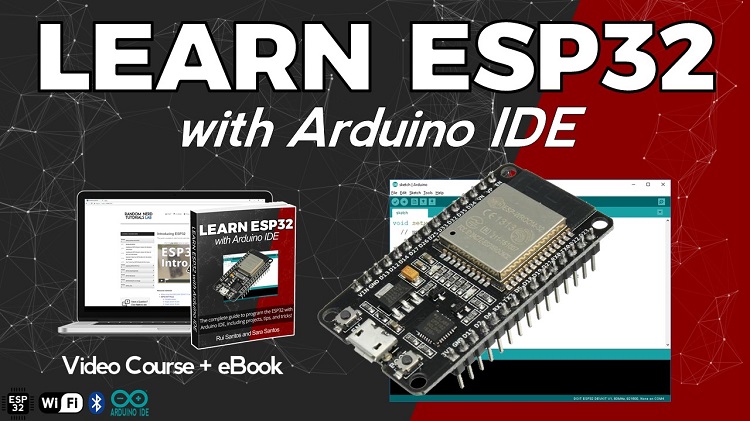 ---
Other RNT Courses
Build IoT projects and home automation gadgets with the ESP8266 Wi-Fi module.
Build a home automation system using open-source hardware and software.
Build 25 cool Arduino projects with our course even with no prior experience!