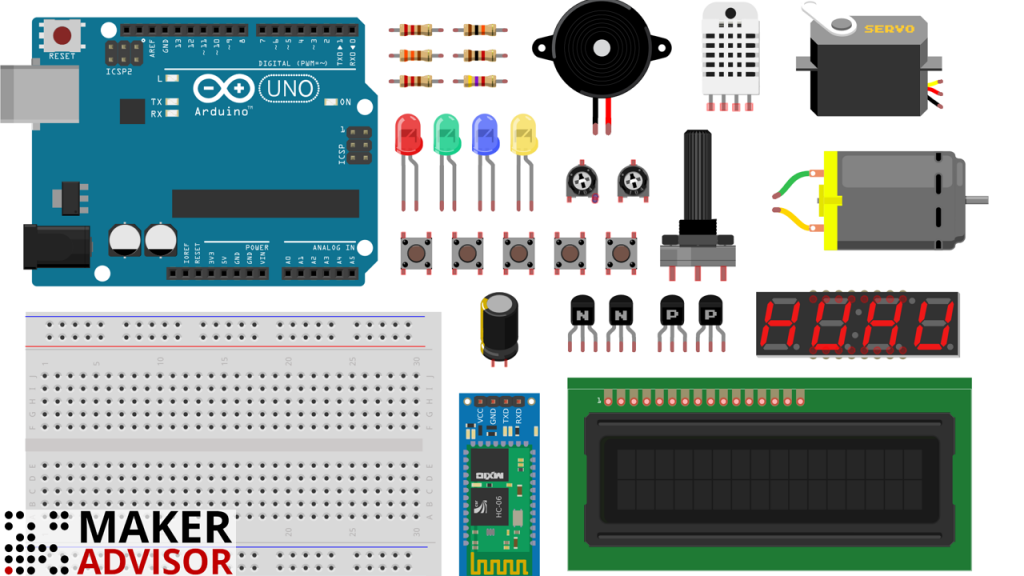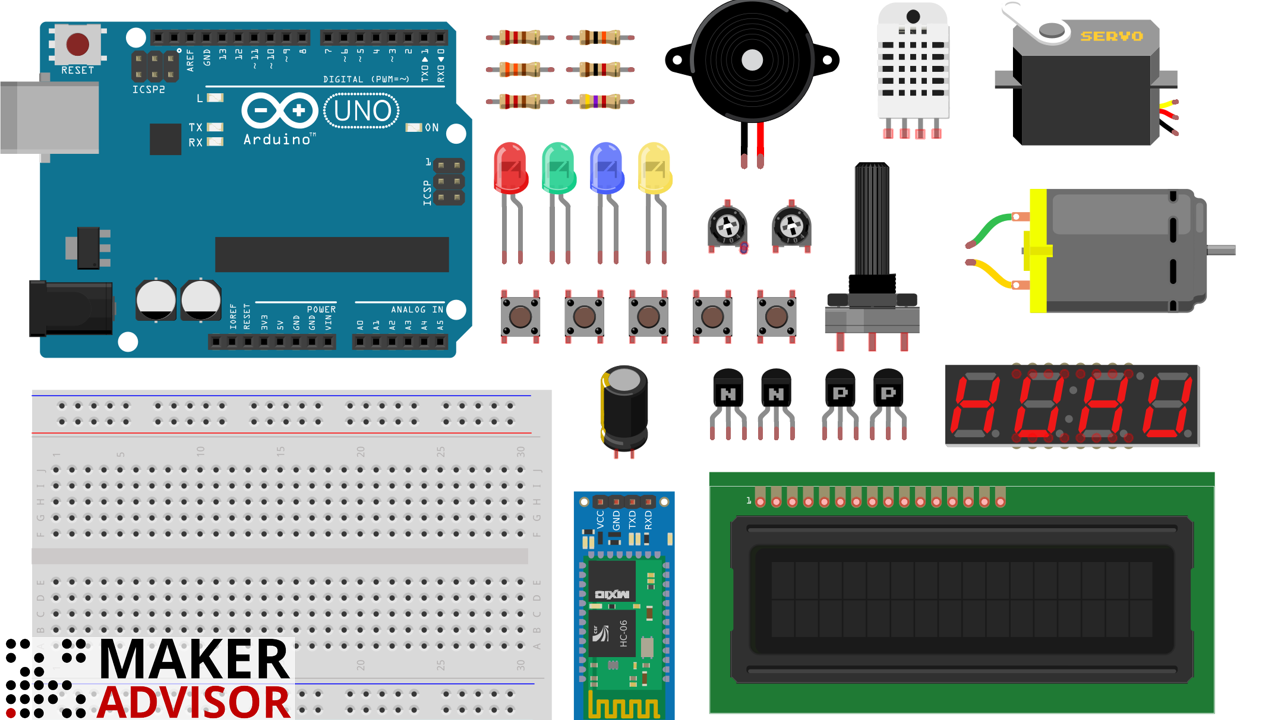 Have you ever wanted to make your own gadgets but don't know anything about electronics and programming? Well, an Arduino can be a good starting point – find out the best Arduino Starter Kits and start making your own projects!
What is Arduino?
The Arduino is a small microcontroller board that you can program to read information from the world around you and to send commands to the outside world. Basically, the Arduino controls outputs and reads inputs. The outputs can be an LED or a motor, and inputs can be potentiometers, buttons or sensors.
There are several Arduino boards. The most popular is the UNO, but Arduino nano and MEGA are also popular among hobbyists and makers.

Best Arduino Starter Kits Price Comparison
We've compiled a list with the best Arduino starter kits. See the list below to compare their features.
Continue reading this post for a detailed analysis of each Arduino Starter Kit.
Figure

Name

Price

Links

Number of Items

Original Arduino

Our Instructions' Rating

Official
Arduino Starter Kit

$$$

40

✓

+++

Elegoo Starter Kit

$$

63

x

++

Smraza Starter Kit

$

33

x

+

16Hertz
Starter Kit

$$$

38

x

+
---
Getting Started with an Arduino Starter Kit
Getting started with Arduino is easy and anyone can learn electronics and programming with this board. However, it can be a little intimidating, specially at the beginning, that you really don't know what an Arduino is capable to do. When it comes to Arduino, the easiest way to learn is by doing! For instance, we recommend that you check our Arduino course: Arduino Step-by-Step projects – a compilation of 25 projects with step by step instructions.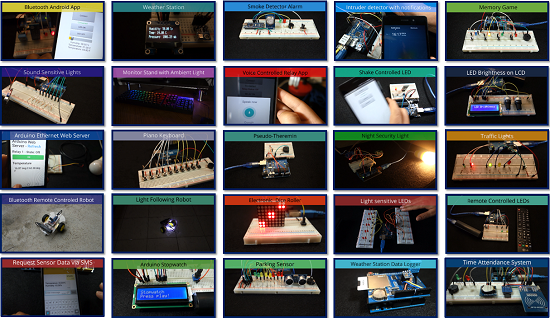 What do you need to get started?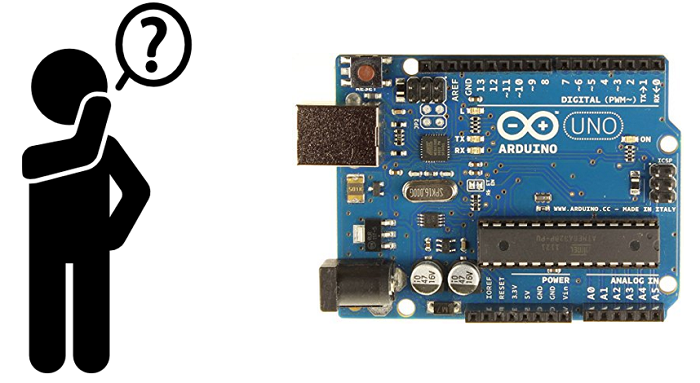 In our opinion, the best way to get started with the Arduino is by getting one Arduino starter kit that contains all the components you need to learn the basics and start doing projects.
Don't be disappointed if your first project is a simple blinking LED. Learning how to blink an LED is more powerful than you think. If you can control an LED, you can control almost anything, whether it is a lamp or a toaster.
There are a wide variety of Arduino Starter Kits. The best kit for you depends on what you want to do and how much you are willing to spend.
Continue reading to find the best Arduino Starter Kit for you.
---
Best Arduino Starter Kits
Arduino Starter Kit - English Official Kit With 170 Page Book - K000007
9 new from $97.91
1 used from $ 89.00
Free shipping
as of December 17, 2017 4:35 pm
This is the official Arduino starter kit. It comes with a project book with 15 projects, and the needed components to build them. This is great if you're a total beginner, because you'll actually learn how to do cool projects with the components provided. The kit comes with the Arduino UNO board, the project book with 15 projects, breadboard, jumper wires, resistors, LEDs, temperature sensor, DC motor and servo motor, and much more.
What's included in this kit?
Arduino UNO + USB cable
Project Book with 15 projects
1 breadboard
Jumper wires
Wooden base
9V battery snap
6x phototransistor
3x potentiometer
10x pushbuttons
Temperature sensor [TMP36]
Tilt sensor
16×2 LCD
LEDs (several colors)
DC motor
Servo motor
Piezo capsule
Motor drive L293D
Optocoupler 4N35
Transistors, capacitors and diodes
Resistors assortment (with the most common values)
---
Elegoo UNO R3 Project Complete Starter Kit with Tutorial for Arduino
1 new from $58.99
Free shipping
as of December 17, 2017 4:35 pm
This kit from Elegoo is just awesome. It comes with a LOT of cool stuff, more than 200 components. Besides basic components like resistors, LEDs and pushbuttons, it comes with a nice set of modules and sensors like: RFID reader, water level sensor, accelerometer/gyroscope module, LED matrix, motion sensor, ultrasonic sensor and much more.
There is also a manual included, with instructions for example projects to help you get started. The manual includes the code (you can copy the code from a CD that comes with the kit), and pictures of assembled circuits, so that you don't get lost. Everything comes in a nice plastic case to keep everything organized, plus an extra mini box to store small parts. The microcontroller is an Arduino clone from Elegoo, but works exactly the same as the official Arduino. This is a good kit not just for beginners but also for experienced.
---
Smraza UNO Project Basic Starter Kit with UNO R3
1 new from $22.99
Free shipping
as of December 17, 2017 4:35 pm
This Arduino kit doesn't come with as much components as the previous one. Still, it brings the essential components to learn Arduino basics in an easy way and for a really good price. This is perfect if you are on a lower budget. The kit includes a PDF document with 23 lessons with instructions and source code.
The kit includes an Arduino clone, nice displays like LCD display, 7-segment display and dot matrix; small electronics components like LEDs, resistors, pushbuttons, a potentiometer, and jumper wires. It also comes with other cool components like a termistor, a servo motor and the DHT11 temperature and humidity sensor. All parts come with header pins, so you don't need worry about soldering. All parts come organized in a handy plastic case.
Recommended reading: Best Raspberry Pi 3 Starter Kits
---
16Hertz UNO R3 Ultimate Starter Kit - LED, LCD, Breadboard, Shield, Relay, 9V Adapter, Sensor, Guide for Arduino
2 new from $59.99
1 used from $ 53.99
Free shipping
as of December 17, 2017 4:35 pm
This kit comes with everything you need to get started with Arduino. It even comes with a multimeter (even though the multimeter is not high quality, it is good for beginners to understand how current and voltage works, or for troubleshooting circuits). The microcontroller is not the official Arduino, it is a fully compatible clone.
Everything comes really well packaged and organized in a plastic case, and in a smaller plastic box for small components like LEDs, resistors and pushbuttons. It brings nice modules and sensors like ultrasonic sensor, gyroscope/acelerometer module, remote control with infrared receiver, stepper motor driver, termistor and much more.
The only con about this kit is the documentation, it isn't as good as it should be. However, there are plenty of online tutorials and courses you can follow to help you out. If you're an absolute beginner, maybe it is better to get a starter kit with a project's book.
Wrapping Up
In this post we've shown you our choices when it comes to the best Arduino starter kits. The best Arduino kit for you will depend on your needs, on your expertise level and on what you intend to do with the Arduino.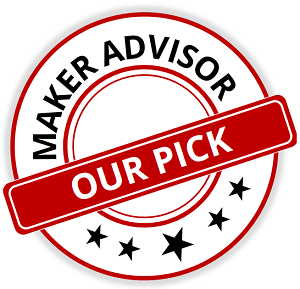 Elegoo Arduino UNO R3 Complete Starter Kit with Tutorial - We selected the Elegoo Arduino UNO R3 Project Complete Starter Kit our number one pick. First of all, because it comes with a wide variety of components, allowing you to do a wide variety of projects – way more projects than the example projects provided. Secondly, this kit is also perfect if you want to go further and do more advanced projects. This is a perfect kit for a very reasonable price.
If you're a total beginner and don't know anything about electronics and programming, and you don't even know how to identify different parts, maybe the Official Arduino Starter kit is the best for you – although a bit more pricey, it comes with a really good booklet to guide you all the way through.
Have you ordered one of these Arduino starter kits? Let us know what do you think.
PS: If you're looking for Arduino Projects, check our Arduino course on Random Nerd Tutorials website.