If you've decided to start learning electronics and you're looking to set up your own hobbyist electronics lab, you're in the right place. This guide will help you learn how to set up an electronics lab and find the right tools and equipment.
Setting Up an Electronics Lab
When you're just getting started, it is difficult to know what tools are or aren't essential, or what are the best tools.
This list contains a lot of different tools. You don't need to buy them all at once. Otherwise, you'll end up buying stuff that you don't need or stuff you'll never use! Start by purchasing a few essential tools related to the projects you want to do. Then, as your lab, and your expertise starts growing, upgrade you lab with new tools.
Finding the Right Spot
Making electronics projects is a lot of fun and it is nice to have a specific space to be our lab, a space where we have all we need to make our projects. It doesn't have to be a full room or a big space. But it's important to have "the" space! A space that is ours and where we can have all things we need to get the most of making electronics projects.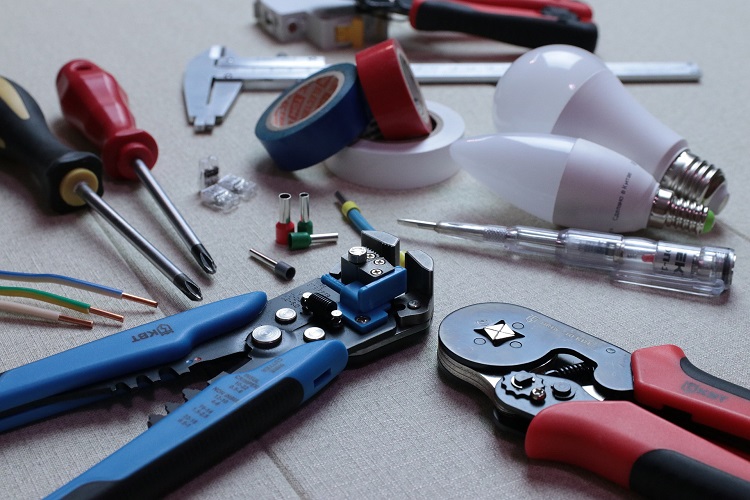 Once you have your spot, you need to set it up! We'll show you some essential tools to set up your own electronics lab.
Multimeter
A multimeter is a measurement tool absolutely necessary. It helps you troubleshooting your circuits. Sometimes your circuits may not work because of faulty wires. Checking the connections with the multimeter can save a lot of time.
If you're looking for one, we truly recommend an auto-range multimeter. The auto-ranging is a great advantage, because it saves you of the hassle of having to guess which range of value the electrical characteristic you're measuring falls under. Check the best multimeters under $50.
Soldering Station
Having a soldering station in an electronics lab is absolutely necessary, even if you don't usually build permanent circuits. Many electronics components don't come with header pins or breadboard-friendly pins attached. In these cases, you'll need to do some soldering work. If you don't do a lot of soldering, a simple soldering station will do the job. However, we really recommend getting a good soldering station with enough wattage and adjustable temperature. A good soldering station will last your entire life.
If you're looking for a soldering station, you may be interested in reading our suggestions about the best soldering irons for beginners and electronics hobbyists.
If you are limited in terms of space, you may want to get a small portable soldering iron. We really recommend the TS80 mini portable soldering iron. It is as good as a regular soldering iron and occupies very little space. Read our review: TS100 Soldering Iron Review – Best Portable Soldering Iron.
Soldering Accessories
Besides the soldering station you also need some soldering accessories:
For more soldering accessories, take a look at the Top 10 Soldering Accessories and Tools.
Bench Power Supply
A voltage supply may not be essential in simple and beginner projects, but it is a really practical tool when it comes to circuits. It allows you to power your circuits before they are finished, to test individual circuits, to experiment, etc. Nowadays, simple bench DC power supplies aren't that expensive anymore. In fact, you can get one for less than $100. Read the best bench power supply for electronics hobbyists buying guide.
Oscilloscope
An oscilloscope is a great tool for debugging and better understand what is going on with your circuits. Unlike a multimeter that only shows the voltage at a specific moment, with an oscilloscope you can see what's happening with the voltage over time. We have an Hantek DSO5102P Digital Storage Oscilloscope (DSO) and it is a great entry-level oscilloscope for students, beginners and DIYers (read our review).
Oscilloscopes are expensive. A cheap regular bench oscilloscope costs at around $300. However, there are very cheap oscilloscope kits that can perform the most basic functions for a very low price. For example, the DSO150 low cost oscilloscope may cost between $25 and $40. This oscilloscope doesn't replace a real oscilloscope, but it is good enough if you're just getting started (read our review).
Wire Stripper
A wire stripper is essential in an electronics lab as you'll have to strip cables many times. You can get a simple wire stripper, but we absolutely recommend you a self-adjusting wire stripper/cutter instead. It is very easy to use, adapts to a wide variety of cables and works perfectly.
Needle-nose Pliers and Wire Cutter
A needle-nose pliers is always handy. You should absolutely get one. Wire cutters are also absolutely essential. You can take a look at these 5 pliers that cost less than $5 each.
Hot Glue Gun
Hot glue is great. It is very handy for a wide variety of applications if you want to make something stick together. In electronics, hot glue is perfect to fix your circuit into a surface or to attach cables together. As the glue is an insulating material, it can help you protect your circuitry. Check our post about hot glue guns: best hot glue guns – our budget and top picks.
You may also like: 4 hot glue tricks for your electronics projects
Precision Screwdriver Set
There are components with really small screws and with specific shapes and so, at some point in your projects, you'll need a precision screwdriver. We recommend you getting a set take comes with extension bits because you'll need all of them sooner or later. Take a look at best precision screwdriver sets – our budget and top picks.
Tweezers
Tweezers are very useful to manipulate the small electronics components. The tweezers below have an extremely small and pointed tip, which is perfect for electronics.
Rotary Tool and Accessories
A rotary tool is great if you like to give your projects a good finished look. This tool is good for working with acrylic, plastic, wood, and more. This tool is not essential for your lab, but it can be very useful.
3D Printer
A 3D printer is not an essential tools in an electronics lab, but it is very useful. With a 3D printer you can take your projects to the next level by building personalized box enclosures, robot parts, and much more. There is a wide variety of 3D printers for all sorts of budgets.
We have a Creality 3D CR-10 3D printer and we're really happy with its performance – you can read our review about the Creality CR-10 3D printer here. If you're on a lower budget, you can take a look at these 3D Printers under $250.
Recommended reading: Best Hobby 3D Printers – Under $250
Assortment Kits and Electronics Components
Besides the previous tools, you need some electronics components to get started. It is easier and cheaper to get started with assortment kits. Here's some of the assortments kits we recommend:
Breadboards
Breadboard are a must for prototyping and testing your circuitry. Once you start doing electronics projects, you'll realize that you'll never have enough breadboards for your projects. Check the breadboard options in our Tools page. There are also breadboard kits that come with other useful accessories for the breadboard.
Jumper Wires
Jumper wires are really handy to connect components together. We recommend getting female to female, male to female, and male to male jumper wires.
You should also get hookup wire that is useful for a wide variety of applications.
Resistors
You'll need resistors in most of your electronics projects. Get a 1/4 watt resistors assortment. These will meet most of your needs. Check the best resistor assortment options in our Tools page.
LEDs
LEDs are awesome and are always a good fit in all electronics projects. Get an assortment with several colors and sizes. Check the LEDs assortments in our Tools page.
Potentiometers and Pushbuttons
Potentiometers and pushbuttons are a must. You'll use them often.
Other Electronics Components
It can also be useful getting kits with transistors, diodes, and capacitors.
Varied Sensors and Modules
There are a wide variety of sensors and modules compatible with Arduino and other development boards. You can get some of them for a very reasonable price. Check the all the sensors options at our tools page.
Arduino Starter Kit
An Arduino Starter Kit is the easiest way to start with digital electronics and programming. We have a full post dedicated to Arduino Starter Kits that you can read here.
Cabinet organizer
A cabinet organizer is essential so that you have all your components organized. We've put together a list with the Best Storage Organizers For Electronic Components and Parts.
Maker Advisor Tools Page
You may also find useful taking a look at our Tools page here. We share the components and tools we use more often, and compare the price on different stores, so that you can get the best price.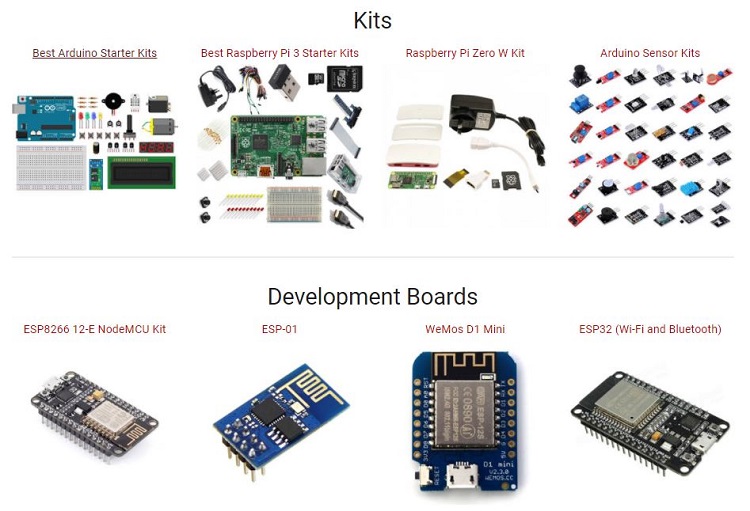 ---
Wrapping Up
Well, it's a lot of stuff for setting up your electronics lab. However, you don't need to get overwhelmed. Electronics components kits usually come with several component units at a very low price. Additionally, you don't need to buy all these tools at once! You can start with a small Arduino Starter Kit and some essential tools, and then upgrade your lab later on.
What tools do you have in your electronics lab or want to get for your lab? Let us know in the comments section below.
Stay Tuned
Looking for more great deals on electronics and tools? Make sure you subscribe here to catch upcoming deals and score some extra savings on your favorite gear!
---
---
Other RNT Courses